Europe doesn't want Russian sanctions – St. Pete forum delegates to RT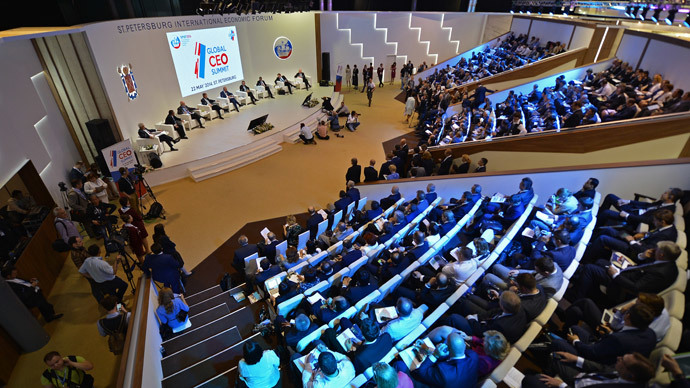 While this year's Intl Economic Forum in St Petersburg saw fewer foreign guests due to sanctions tension, those who chose to leave politics aside told RT imposing economic restrictions on Moscow would mean "cutting the trees" they are "sitting on".
Here's what the top managers told RT at the Economic Forum in St. Petersburg.
Reiner Hartman, Chairman at the Association of European Businesses
"We as investors have a success story in this country for 22 years. We've started from scratch and we have now such a fantastic story... We have investors from Europe, from the United States, from South America, from Africa, from Asia. They are all here. And why are we being taken hostage by irresponsible, I must say, political decision making people?"
"I've heard about 20 or 57 Chinese high-tech companies ready just to move in and replace Alstom, Siemens, BASF, and Bayer, just to name the few. It's amazing!"
Jean-Pierre Thomas, President of Thomas Vendome Investment
"CEOs and managers of western businesses are very aware that we have to cooperate with Russia because we are very complimentary. In Russia you have a lot of things to do to modernize your economy and need our technology and in Europe we need export and growth."
"We [the West] have everything to lose in terms of economic growth and business. That's why the US pushed for the economic sanctions. We are cutting the trees we are sitting on. It's completely idiotic and inefficient - the solution is diplomacy."
"I don't think the EU will agree on economic sanctions. The English will not touch finance, the French won't touch defense."
Joe Watt, Managing Partner at Ernst and Young
"Russia has been through various cycles over the last 25 years, this is another cycle. I think there are long-term opportunities. The idea is that if companies leave now, it will be very hard for them to re-establish themselves in the future."
"What we do see is some great entrance and great buying opportunities, we've even heard of some companies here now actively looking at opportunities to enter the market now. We do see companies taking advantage of the situation, and those companies will be successful in the long-term."
Shiv V. Khemka, CEO at Sun Group
"We very much believe in the future of Russia. You have tremendous human capital and your human capital is a huge asset, you have huge resources and you are on the border of Asia. Hence, what's happening now is very logical."
David Owen, Managing Partner at Deloitte CIS
"The atmosphere, the mood at this forum, it's the fourth that I've attended, is quite resilient. And I think … business people are looking onto the politicians on all sides to create a sustainable political solution that enables us as business leaders to focus on how we are going to take advantage of that, to build our business interests and to ensure that the health and stability of the regional economies. I think, it's a very healthy can-do attitude being demonstrated by all the people that are here."
David Gray, Managing Partner at PricewaterhouseCoopers, Russia
"Europeans see Russia as a partner, there are many businesses that have been in Russia for many years and continue to believe that Russia is a very attractive market for them. And they still have plans about expanding their activities in Russia... People see a lot of opportunities for further developments in trade. I don't think that gets completely derailed. I think we are going to have the polls where people figure out what political events mean. But I still think Europe is going to be extremely important market for Russia and Russia is going to be an extremely important market for Europe."
You can share this story on social media: