​Russia launches 'safe search' Sputnik to rival Yandex, Google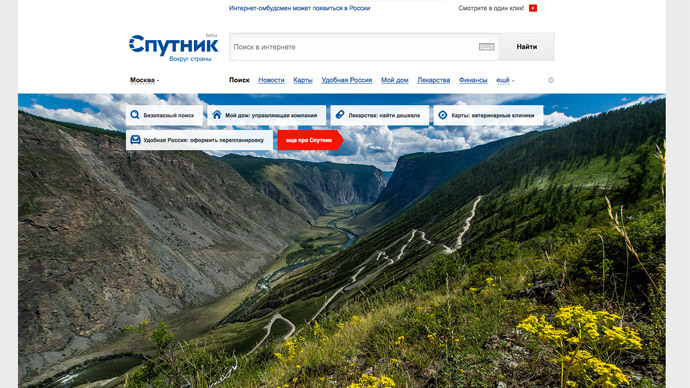 Russian state-owned telecoms company Rostelecom has launched a trial version of its Sputnik search engine offering approved links and information helpful to everyday life, such as buying the cheapest medicine or applying for a passport.
The debut of the new search engine was announced Thursday at the 18th International Economic Forum in St. Petersburg dubbed the "Russian Davos".
The engine is referred to as "safe search", because no unchecked links should appear in its results.
"We've indexed over 10 billion documents on the Russian internet, picking the most reliable, and full and official sources of information," the company said in a statement.
"We consider the absence of unreliable information crucial for users rather than the recall ratio. Such an approach is at the core of the Sputnik concept", said Aleksey Basov, Vice President of Rostelecom and Chairman of Sputnik.
The new web-search engine aims to develop and incorporate services that might be helpful to people in their everyday life and social activities. It will be handy in daily local tasks, saving time and money, finding a petrol station with the cheapest gasoline, a nearest vet clinic, the fastest services to renovate an apartment, or links to process an official document. Sputnik will also broadcast news from several TV stations on its page.
It hasn't been made public how much money was invested into the project, but previously a Rostelecom source estimated it at $20 million.
Basov hopes that in four years the project will make it to the top ten of Runet websites, which means it'll become a rival to Yandex and Google - the leading search engines operating in Russia. Currently Yandex is the leading technology firm in Russia and accounts for about 62 percent of the country's search market, according to LiveInternet stats. Google is in second place with 27.6 percent of the market.
You can share this story on social media: