Ukrainian PM orders govt: 'Prepare for Russian gas imports to stop'
Ukrainian Prime Minster Arseny Yatsenyuk has ordered Energy and Coal ministries, regional governments, and Naftogaz to get ready for Russian gas supplies to be cut starting Monday, the cabinet's website said.
The measure is dubbed "the energy sector's functioning plan which involves the cessation of gas deliveries from the Russian Federation" and comes into effect on June 16, the document states.
With that, Kiev will launch its case against the Russian energy giant Gazprom at the Stockholm Court of Arbitration, the statement said. Yatsenyuk called for "preparations to be completed" for the process.
Moscow set Monday as a deadline for Ukraine to pay off part of its gas debt of $1.95 billion.
Yatseniuk also ordered the national regulator to revise transportation tariffs for Russian gas via Ukraine as Russia ships around a half of its gas exports to Europe through Ukraine.
Despite ordering the measures effectively undermining current gas talks with Russia, Yatsenyuk still blamed Moscow for the failure of the talks.
"Due to Russia's deliberate rejection to settle the conflict, Ukraine's and the EU's energy security is being undermined," the Kiev official claimed.
Yatsenyuk also decried "rejection" of what he called "constructive offers of the Ukrainian side that correspond to the European Commission's position."
'Ukraine has 15 billion cubic meter of Russian gas, ready for anything'
The head of Naftogaz, Andrey Kobalev, said on Friday that Ukraine is hoping to reach a deal with Gazprom in two days' time, but is also "ready for the worst case scenario – the halting of deliveries and transit of gas from Russia."

Ukraine has more than 15 billion cubic meters of Russian gas accumulated in its reserves, Kobalev revealed. With that, Ukraine "will do everything possible for uninterrupted transfer" of gas to Europe, he assured.

At the same time, the Naftogaz head claimed that Ukraine is ready "to reverse the pipes" if need be – i.e., to buy the Russian gas from European countries.
On Friday, Kiev also appointed its own price for Russian gas - $326 per 1,000 cubic meters - "while Ukraine's lawsuit in considered" in Stockholm.
"Kiev finds the option put forward by the European Commission unacceptable – the price around $385 - with the average price at $326," Kobalev said.

He added the price would be "temporary" for the period of 18 months while the international court in Stockholm reviews Ukraine's complaint against Russia's pricing.

Kobalev declared European companies are ready to sell gas to Ukraine for less than $325 per 1,000 cubic meters. The names of the companies were not elaborated on, but the Naftogaz head said they were ready to pay this price.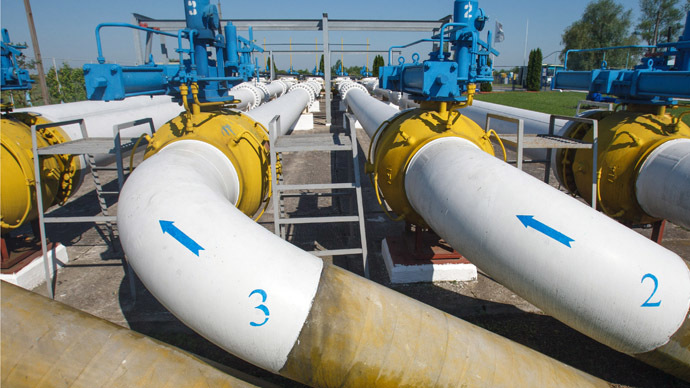 Russia: No talks till Monday deadline
Russia's Ministry of Energy announced Friday that Moscow is not going to hold negotiations with either the European Commission or Ukrainian Energy Ministry's delegations before the deadline set for Kiev to pay its debt expires at 06:00 GMT Monday.

If the Russian gas giant does not receive US$1.951 billion overdue payment by that time, Ukraine would have to pay for its gas supplies in advance.

"If nothing has been paid, nothing will be supplied," Gazprom CEO Aleksey Miller said on Thursday.
Kremlin spokesman Dmitry Peskov on Friday said that Moscow has no information on whether the gas talks with Ukraine will continue. Russia has not received any response to what Peskov said were "more than flexible offers" during the negotiations.
Debt and price dispute
Ukraine's gas debt currently exceeds $4 billion. The latest price proposed by Russia stands at $385 per thousand cubic meters, a market-level price paid by the majority of other European countries, and $100 discount from the original offer. This is roughly the same price that was agreed on by former Prime Minister Yulia Timoshenko back in 2009.

But Kiev still wants a cut since the government of ousted President Viktor Yanukovich used to enjoy a couple of additional discounts.

In 2010, the gas price for Ukraine dropped to $315 per 1,000 cubic meters - in return for prolongation of the agreement to station Russia's Black Sea Fleet base in the harbor of Sevastopol, Crimea. Three years later, in late 2013, Yanukovich agreed to enter a Customs Union with Russia, Kazakhstan and Belarus, which saw the gas price drop even lower, to $268 per 1,000 cubic meters.
These discounts were annulled as the new government in Ukraine refused to pay for gas supplied under payment upon delivery scheme.

"This government that wants to have 'normal relations with Russia' … and at the same time wants to place Ukraine in the Western sphere of interests, which would be against the wishes of millions of ordinary Ukrainians," Marcus Papadopoulos, editor of a UK political magazine Politics First, told RT.

"And then Ukraine wants to have discounted prices from Russia for Russian natural gas – that is unacceptable, that is intolerable," Papadopoulos said.
Yatsenyuk's approach
Ukraine's coup-appointed Prime Minister Arseny Yatsenyuk has been stubbornly pushing the price down, despite the fact that Ukraine still owes billions of dollars to Russia's gas giant Gazprom.

"If gas is a political weapon, then this political weapon is in the hands of the Russian government. And if gas is a commodity - as it typically is all across the world - then our trade is based on a contract and not based on whether Russia likes the Ukrainian government or not," Yatsenyuk said.

Gazprom's CEO Aleksey Miller remained unimpressed by Kiev's bargaining tactics.

"The strategy of the Ukrainian side is outright blackmail," Miller said. "From the start - they took no constructive steps, made no compromises and apparently want only to maximally aggravate our gas relationship."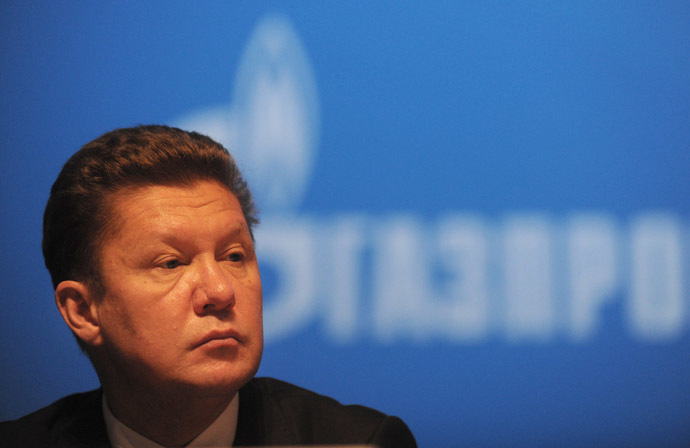 Implications for EU
The gas war may spill over and affect the EU, as witnessed in the past. In 2006, gas supplies were cut off after Ukraine siphoned fuel intended for Europe from the transit pipes. In 2009, Kiev did it again.

In early April, Russian President Vladimir Putin wrote a letter to the heads of European states, warning them about the Ukrainian gas debt and urged to sit down and find a solution to the problem (https://www.rt.com/russia/official-word/putin-message-european-leaders-748/).

The EU replied that Gazprom should follow its contractual obligations, and urged it to warn in advance of any possible disruptions to gas transit through Ukraine.

Bill Doares from the International Action Center thinks Kiev is treading a dangerous path in these gas negotiations.

"The Ukrainian government is being in transition, putting its own population at risk and now putting the population of Europe at risk. I think in this particular case the Russian government is not acting politically, but is acting on a strictly economic market basis," Doares said.

"They are offering gas to Ukraine at a lower price than Europe is paying. You could say that Russia was acting politically earlier, when it gave large discounts to Ukraine in a desire of stability. But if the Ukrainian government is behaving in a hostile way – there is no reason for Russia to give Ukraine special political consideration," he concluded.
You can share this story on social media: