​Median US CEO Pay tops $10 Million in 2013 – study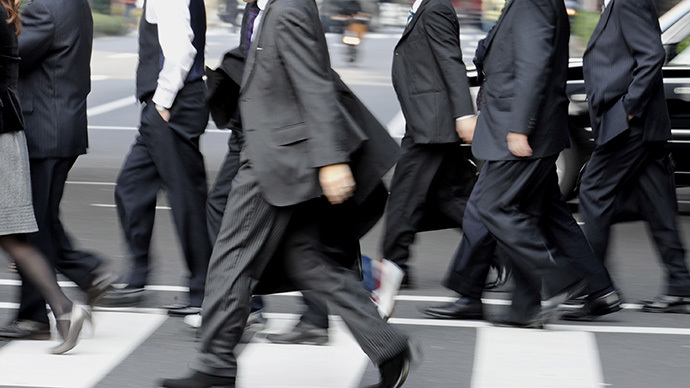 The median pay package of top US CEOs in 2013 has breached eight digits, hitting $10.5 million. It's an 8.8 percent rise from a year earlier and more than a 50 percent increase since the Great Recession, according to an AP and Equilar study.
Executive pay research firm Equilar examined 337 companies using data about salary, perks, bonuses and stock and option awards taken from their regulatory filings. Only CEO's in charge for 2 and more years were included.
The best paid CEO last year was Anthony Petrello of oilfield-services company Nabors Industries, who made $68.3 million. The significant gain came as the chief executive received a one-time boost in pay following the board's decision to re-negotiate CEO contracts under pressure from shareholders.
The highest paid female chief executive became Carol Meyrowitz, the head of discount retail giant TJX, owner of TJ Maxx and Marshall's.
More than two-thirds of CEOs in the S&P 500 received a pay raise, with the heads of banks receiving the biggest hikes. The average salary of a Wall Street CEO rose 22 percent last year, on top of a 22 percent increase the year before.
"If you have a good CEO at a company, the wealth he might generate for shareholders could be in the billions," AP quotes Dan Mitchell, a senior fellow at the Cato Institute, a libertarian think tank. "It might be worth paying these guys millions for doing this type of work."
The typical CEO now makes 257 times the average worker's salary, soaring from 181 times in 2009.
"Companies have been happy with their CEOs' performance and the stock market has provided a big boost," AP quotes Gary Hewitt, director of research at GMI Ratings, a corporate governance research firm. "But we are still dealing with a situation where CEO compensation has spun out of control and CEOs are being paid extraordinary levels for their work."
CEOs are still getting much bigger raises than the average US worker who had a 1.3 percent increase from a year earlier.
You can share this story on social media: