World's biggest earner: Warren Buffett made $37 million a day in 2013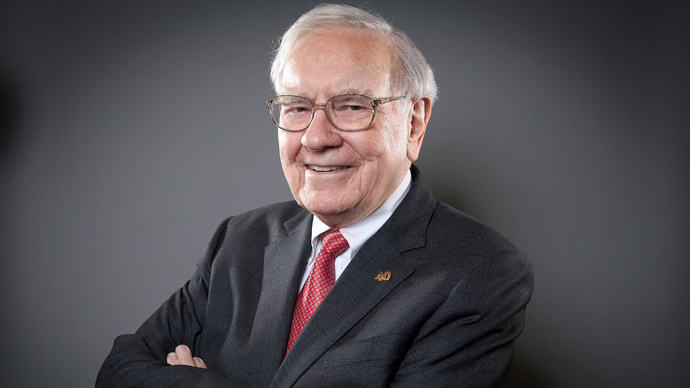 US investor Warren Buffett tops the list of the biggest 2013 earners, having added $12.7 billion to his wealth, according to a report by the international analyst Wealth-X.
The 83-year-old head of the Berkshire Hathaway investment vehicle earned $12.7 billion in the year. In January the wealth of the businessman, nicknamed the "Oracle of Omaha" for his phenomenal market intuition and faultless economic forecasts, was estimated at $46.4 billion and by December it had grown to $59.1 billion. Buffett's fortune increased by about $37 million daily.
However, Buffett is still not the richest man in the world, that's the founder of Microsoft Bill Gates, whose personal wealth is estimated at $72.6 billion. His wealth only increased by $11.5 billion in 2013.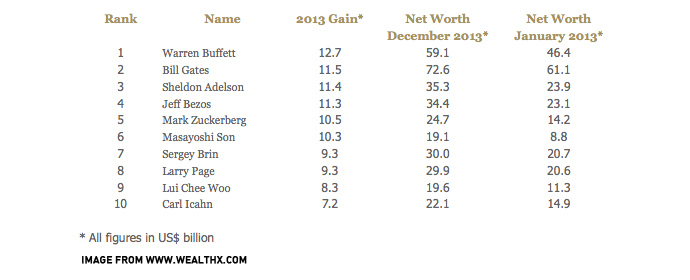 American gambling tycoon Sheldon Adelson made $11.4 billion and rounds out the top three earners.
Jeff Bezos, the founder and the chief executive of the largest world online retailer Amazon comes next with $11.3 billion, followed by the founder of Facebook, Mark Zuckerberg with $10.5 billion. Founders of Google, Sergey Brin and Larry Page have split the seventh and the eighth places with $9.3 billion equally.
Besides Americans the list covers the president of one of the largest Japanese mobile network operators – Softbank, Masayoshi Son and one of the richest people of China, the gambling tycoon, Lui Chee Woo. They earned $10.3 billion and $8.3 billion respectively, having appeared at the sixth and ninth positions in the rating. The list of the most successful businessmen of 2013 is rounded out by Carl Icahn, the US investor, who has increased his wealth by $7.2 billion.
The world now has 2,170 billionaires, whose cumulative capital amounts to $6.5 trillion.
You can share this story on social media: