'China ready to replace EU investors in Russia if more sanctions follow'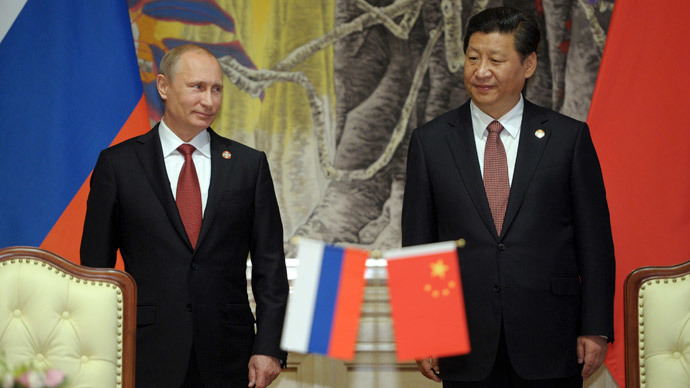 Chinese investors are ready to replace European companies if the EU goes on with the "irresponsible" policy of sanctioning Russia, Reiner Hartmann, chairman of the Association of European Businesses in Russia told RT in an exclusive interview.
The Chinese are prepared to step in "if we are squeezed out (of Russia) through sanctions or other measures", Hartmann warned during the 18th International Economic Forum in St. Petersburg.
CHECK OUT ST. PETERSBURG LIVE UPDATES HERE
"I've heard about 20 or 57 Chinese high-tech companies are ready just to move in and replace Alstom, Siemens, BASF, and Bayer, just to name the few. It's amazing!" he said.
However, Hartmann expressed hope that "the trust, which has been built between… Russian government and European investors is still very holding; very strong and will overcome this."
The businessman said European investors, who had "a great success story" in Russia, are now "taken hostage by irresponsible political decision making people."
According to Hartmann, sanctions against Moscow demonstrate "shortsightedness" of European MPs and individual governments.
"They have a four-year period and then they're stepping down or are re-elected, but we – investors – we stay here," he explained.
Restrictive measures will affect European companies working in Russia, which will have a negative effect on jobs at home and "will be a setback for the recovery of Europe" from the crisis, the businessman warned.
Hartman believes that the investors were put in a difficult situation ahead of the St. Petersburg forum as they were forced to choose between backing their governments' stance and ignoring the event or offending their authorities by deciding: "'I don't care. I come because I talk about business, I don't talk about politics."
"A lot of top businesses CEOs simply have – at the last minute – decided not to come because of this pressure from the government," he said.
"I am surprised how strong the influence is from the European government in Brussels, in particular, on investors," Hartmann added.
The EU and US have introduced several waves of sanctions against Moscow after the Republic of Crimea voted to cut ties with Ukraine and reunited with Russia in March.
The restrictive measures target individual Russian politicians and businessman, who saw travel bans and asset freezes introduced against them.
However, the EU government keeps repeating that idea of sanctions against specific branches of the Russian economy still remains on the table.
RT also talked with Total CEO Christophe de Margerie, Sun Group CEO Shiv Khemka, Deloitte Managing Partner David Owen, and the Association of European Businesses' Reiner Hartman.
Watch more comments to RT from the St. Petersburg Economic Forum here:
You can share this story on social media: