Japan's surplus shrinks to record low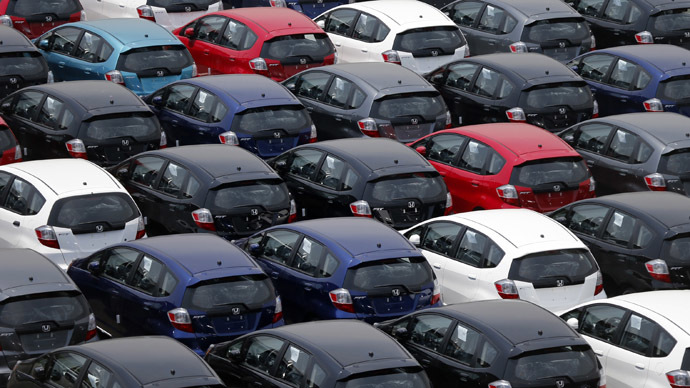 Japan is importing more and exporting less, which has sent its trade surplus down 81.2 percent, the most since 1985. The gap reveals weaknesses in 'Abenomics', the economic program meant to save the world's third-largest economy from decline.
The $7.4 billion surplus (790 billion yen) at the end of March was the smallest surplus on record, stoking fears that weak trade could thwart the government's plan to spur growth and stave off deflation. If trade surplus continues to stall, Japan will struggle to pay off its massive quadrillion yen debt.
From March, the current account surplus slumped nearly 500 billion yen from 612.7 billion in February to111.4 billion yen.
High energy costs, which spiked after Japan had to start importing fossil fuels after the 2011 Fukushima disaster, continue to drive up the country's import bill.
The Ministry of Finance reported the preliminary data on Monday.
Exports climbed 12.2 percent to 69.80 trillion yen in the first financial fiscal year, but imports grew 19.6 percent to 80.67 trillion yen, a negative value for the third year in a row.
The weaker yen puts a drag on export revenues as well as continuing to place inflationary pressure on imports. Japan, an island nation, is hugely dependent on imports, especially in the energy sector, where foreign purchases comprise about 90 percent of its energy needs.
The surplus will only balance out if Japanese companies can boost their exports abroad or if banks can generate higher overseas investments. Japan's primary income account has provided balance to the import-heavy net trade sheet, and increased 14 percent to a record high of 16.66 trillion yen.
Failure to finalize details on the Trans-Pacific Partnership (TPP) trade liberalization agreement with America and 10 other countries may also deal a big blow to Japan's trade future, as slashing high tariffs could strengthen trade with not only the US, but with Canada, Mexico, New Zealand, Malaysia and others.
The IMF expects Japan's growth to decrease to 1 percent in 2015 from 1.4 percent this year, due to a reduction in the stimulus effects from monetary and fiscal easing. A negative trade balance could wreck further damage on the account, as last year it shaved off 0.3 percent of the GDP.