Rosneft and ExxonMobil approve 4 Arctic projects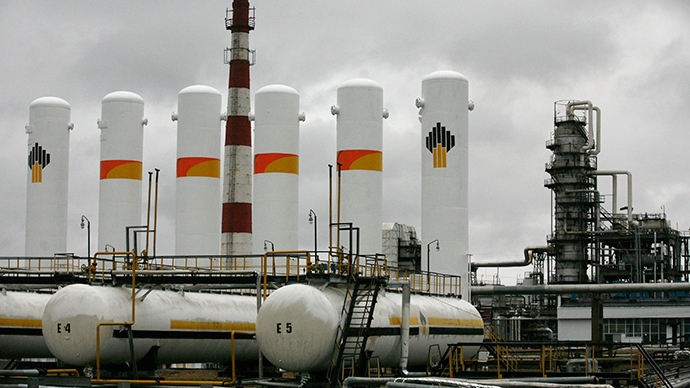 ​Rosneft, one of the world's largest oil companies, has given the go ahead on four Arctic projects with US oil giant ExxonMobil, despite the US government's attempt to derail business relations with sanctions.
The two companies will develop hydrocarbon reserves in the Arctic waters of Russia, including the Laptev and Chukchi Seas, Rosneft said in a statement Monday.
The projects will explore and develop four licensed oil-rich reservoirs: the Anisinsk-Novosibirsk and Ust-Olenksk shelf sites in the Laptev Sea zone, as well as the North-Wrangel-2 and South-Chukchi shelf reserves, the statement said. No financial details were provided.
Rosneft also plans to team up with Texas-based ExxonMobil to explore the remote Kara Sea in August.
Only Russian state-owned companies can obtain licenses to explore the Arctic, which has oil reserves estimated at 90 billion tons, or 13 percent of the world's supply.
Natural gas reserves stand at 1.67 trillion cubic meters, or 30 percent of the world reserves, and liquefied natural gas weigh in at 44 billion barrels, or 20 percent of potential reserves. Abundant and untapped, oil and gas above Russia offers a great investment opportunity, but at the same time, it is expensive and laborious to explore and drill in the harsh Arctic climate, which is only possible in three short summer months.
The most recent round of US-led sanctions against the Russian economy put Igor Sechin, the CEO of Rosneft, but not the company, under sanctions. If further sanctions are pursued and the company itself is targeted, it could complicate business in Russia.
Exxon and Rosneft have non-Arctic projects, as well. A $300 million Siberian shale drilling project will break ground in 2014, and there are plans to develop one of Rosneft's deepwater wells in the Black Sea as early as 2015. The Kara and Black Sea projects net 11.3 million acres at the end of 2013.
Exxon Mobil also has a substantial stake in the Far East Sakhalin oil project, for which it plans to build a new platform this year. Total net acreage in Russia's Pacific Ocean waters near Sakhalin Island was 85,000 acres at the end of 2014.
Norway's Statoil and Italy's Eni oil companies also have oil projects with Rosneft.
You can share this story on social media: