Madagascar ends voting after presidential elections boycott drama
Violent protests against President Andry Rajoelina's candidacy have raged for weeks, owing in part to his French nationality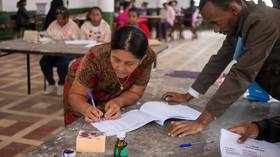 Madagascar closed voting in the first round of presidential elections on Thursday, following weeks of violent protests and boycotts by several opposition candidates amid allegations of electoral irregularities.
Voting reportedly took place peacefully in Africa's largest island nation, with low voter turnout, particularly in opposition strongholds, and minimal security presence across the capital, Antananarivo.
Before the Thursday elections, authorities imposed a nighttime curfew in the capital after some polling stations were set on fire.
Official figures show that Madagascar has a population of around 30 million, but just over 11 million are registered to vote. According to local election officials cited by Reuters on Thursday, initial voter turnout was about 30% in ruling party strongholds, compared to 15 to 20% in areas aligned with the opposition.
Ten of the 12 opposition candidates shunned the election, criticizing President Andry Rajoelina's third-term bid and demanding that he be disqualified from running because he acquired French nationality in 2014.
Rajoelina, a 49-year-old former DJ, came to power in a 2009 coup but stepped down as leader of the transitional authority after nearly five years and then became president after winning elections in 2018. He resigned in September after being officially confirmed as a candidate in the presidential elections, as required by the island nation's constitution.
The president's opponents claim he should have lost his Malagasy nationality after being naturalized as a French citizen.
However, Rajoelina rejected the claims, arguing that the constitution does not require the head of state to be solely Malagasy and that any loss of citizenship requires signed authorization from the government. He reportedly explained that he became French to allow his children to study abroad.
In September, the former French colony's constitutional court dismissed appeals to have Rajoelina's candidacy declared void over his dual citizenship, sparking anger from the opposition.
The opposition coalition had organized protests for over six weeks, the majority of which turned violent, with clashes with police and the arrest of dozens of demonstrators.
The government has said the protests are motivated by a "desire to overthrow power" and "sabotage the electoral process," according to the AFP news agency.
Meanwhile, the opposition coalition has vowed to continue protests until "a fair election" is held.
"We confirm that the struggle continues, and we will not stop until victory is achieved," the opposition said in a statement late on Thursday quoted by Reuters.
The national electoral body has yet to release the official election results.
You can share this story on social media: