Russian transport company to launch new Egyptian sea route
FESCO is aiming to use a "unique opportunity" to open up new niches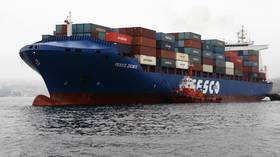 The first delivery along a new sea route between Russia and Egypt will take place in December, vice-president of the Russian FESCO Transportation Group, German Maslov, has announced.
Speaking at the 'Transport Week – 2023' forum in Moscow on Wednesday, Maslov discussed the opening of the new logistics route between the Russian Black Sea port of Novorossiysk and Egypt, confirming that it would begin operations next month.
According to Maslov, the route will primarily be geared toward transporting refrigerated containers, although standard cargo will also be delivered.
The FESCO VP added that the multi-modal transport company had increased its shipping fleet significantly, stating that "we enter 2024 with 35 vessels. Two years ago, this figure was only 24 ships."
Maslov noted that the exit of large companies from the Russian market due to Ukraine-related sanctions, had spurred closer partnerships in the east, where FESCO was now actively cooperating with large Chinese carriers.
Competition, he insisted, "only increases the level of quality."
"The events that have taken place in the logistics world are a unique opportunity for Russian companies to occupy niches where there have never been Russian and Soviet companies," Maslov said.
The FESCO Transportation Group is a leading Russian multi-modal transportation and logistics company, with operations in ports, integrated logistics, rail, and shipping. It currently owns 35 ships and 170,000 twenty-foot equivalent (TEU) containers.
The city of Novorossiysk has also made headlines recently, after Russia sent 25,000 tons of free wheat as humanitarian aid to Africa from the Black Sea port on November 9.
You can share this story on social media: