UK government to ignore court ruling over 'illegal' deportation plan
British Prime Minister Rishi Sunak has called for an end to a juridical "merry-go-round"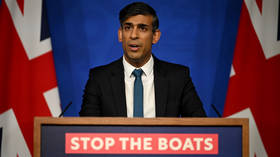 British Prime Minister Rishi Sunak vowed on Wednesday to revive his trademark immigration policy of sending asylum seekers to Rwanda after the UK Supreme Court struck the measure down the same day.
Britain's top court ruled that the government's plan to send asylum seekers to Rwanda was unlawful due to the African country's unsafe conditions for migrants.
During a press conference organized following the unanimous rejection of the policy plan by five judges, Sunak stated that "we need to end the merry-go-round," referring to immigration policy. He said he believes that planes deporting migrants to Rwanda would start departing in the spring of next year.
Sunak said the legislation would "confirm Rwanda is safe" despite the court's statement that there was a "real risk" of migrants facing persecution. "We've been working on a new international treaty with Rwanda, and we will ratify it without delay," the prime minister wrote on X (formerly Twitter).
He added that London would "provide a guarantee in law that those who are relocated from the UK to Rwanda will be protected." Sunak explained that the British people expect the inflow of migrant boats to stop.
At the same time, the prime minister did not specify the time frame for introducing the legislation or how it would avoid the Supreme Court's ruling.
"This is a treaty which he's putting into legislation – it's just another version of plan A. He'll be stuck in the courts again. More magic tricks from Rishi's magical thinking," an ally of Sunak's former home secretary, Suella Braverman, was quoted as saying by The Guardian.
Braverman was sacked as home secretary by Sunak on Monday after a series of controversies. She has repeatedly made harsh statements about the migration policy of the prime minister after the dismissal.
In April 2022, a deal was signed between Britain and Rwanda to send migrants who arrive by boat to the East African country for accommodation.
The Rwanda plan has resulted in the British government paying the African country at least £140 million ($175 million). The European Court of Human Rights intervened at the last minute to prevent the first deportation flight from being carried out in June 2022.
You can share this story on social media: