WHO pays Congolese sexual abuse victims $250 each – AP
The recipients are among women and girls that the global health agency's employees allegedly exploited during a 2018-2020 Ebola mission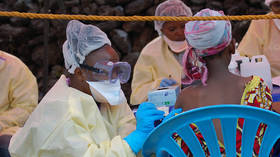 The World Health Organization (WHO) paid $250 each to at least 104 Congolese women who were allegedly sexually abused by its staffers during the deadly Ebola outbreak in the African nation, the Associated Press (AP) reported on Tuesday.
The payments, totaling $26,000, were made earlier this year when Gaya Gamhewage, the doctor in charge of the WHO's work on sexual harassment and abuse prevention, visited the Democratic Republic of Congo (DRC) to address the biggest known sex scandal in the agency's history, the outlet added, citing internal documents.
Recipients were reportedly required to complete training courses designed to assist them in starting "income-generating" businesses in order to receive the cash. One of the abused women is said to have given birth to a baby with a disability that requires special medical care.
An investigation commissioned by the WHO reported in September 2021 that 21 of its employees were among 83 aid workers who sexually assaulted local women and girls while on a 2018-2020 UN Ebola mission in the DRC.
According to the 35-page report, the abuses, which included nine allegations of rape, were committed by both local and international workers. While dozens of women claimed to have been offered work in exchange for sex, others said they were coerced with alcohol, trapped in hospitals, and forced to have sex, leaving two of them pregnant.
The commission said it found clear structural failures and an inability to manage the risks of sexual exploitation and incidents of abuse in the Central African country. Prior to that, AP reported that senior WHO management had been made aware of the sexual misconduct in 2019 as it occurred but did little to stop it.
Last month, the global health agency announced that five staff members had been sacked since 2021 in response to findings of sexual misconduct. The names of 25 other alleged perpetrators have also been entered into a UN database to prevent future employment, it added.
However, the alleged victims are said to have expressed distrust in the WHO, insisting that its efforts were not enough. According to the AP, several Congolese women who were sexually exploited have yet to receive compensation. While the institution reportedly said in a confidential document last month that about a third of the known victims were "impossible to locate," it claimed that nearly a dozen others declined its offer.
Those who received the $250 cash, including a young woman who now has a five-year-old daughter as a result of the incident, told the outlet that the payout was insufficient and that their main goal was to see justice served.
"It's not unheard of for the UN to give people seed money so they can boost their livelihoods, but to mesh that with compensation for a sexual assault, or a crime that results in the birth of a baby, is unthinkable," Paula Donovan, co-director of the Code Blue campaign against sexual misconduct in the UN, is quoted by AP as saying.
You can share this story on social media: