Nigerian labor unions suspend indefinite strike
The move comes after the government promised to address concerns among workers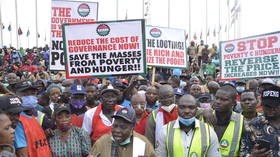 Nigeria's two major labor unions have called off an indefinite strike that was due to begin on Tuesday to protest the high cost of living, which they blame on the government's withdrawal of petrol subsidies.
The decision comes after the government announced measures to address the concerns of workers, the Nigeria Labour Congress (NLC) and the Trade Union Congress (TUC) said in a joint statement on Monday.
"The NLC and TUC accept to suspend for 30 days the planned Indefinite Nationwide strike scheduled to begin, Tuesday, the 3rd of October, 2023," the federations stated.
On Sunday, President Bola Tinubu announced a temporary wage increase of 25,000 naira ($32) per month for lower-paid government employees for the next six months in a bid to stop the nationwide strike action.
He also committed to deploying "cheaper" public transport to offset the effects of the government's economic reforms.
The cost of goods and transport in Nigeria has risen since Tinubu removed fuel subsidies as part of reforms aimed at cutting the budget deficit when he took office in May.
Unions in the West African country have demanded a monthly minimum wage of about $260, claiming that government policies have exacerbated the cost-of-living crisis, including making citizens unable to afford transport to work.
The NLC and TUC announced several agreements with the government on Monday, including a wage award of 35,000 naira (approximately $45) to state employees beginning in September, "pending when a new national minimum wage is expected to be signed into law."
The government has also agreed to deploy "high-capacity CNG [compressed natural gas] buses for mass transit" in the country, the unions stated.
You can share this story on social media: