Nigeria marks 63 years of independence
Low-key celebrations have been held to commemorate independence from British colonial rule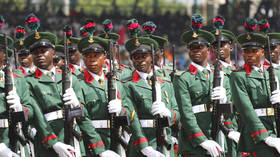 Nigeria marked 63 years of independence from the British Empire on Sunday, but cancelled the traditional parade in Lagos due to economic challenges and civil unrest.
President Bola Tinubu gave a televised address to the nation, saying: "On this solemn yet hopeful day, let us commend our founding fathers and mothers. Without them, there would be no modern Nigeria."
"The journey ahead will not be navigated by fear or hatred. We can only achieve our better Nigeria through courage, compassion and commitment as one indivisible unit," the president added.
Britain controlled Nigeria from the mid-19th Century until October 1, 1960, when colonial rule was brought to an end with a UK Act of Parliament.
Independence celebrations in Nigeria typically begin with the president's morning address, followed by an official parade in the capital, with music, dancing, and a military procession. However, this year's event was called off due to a severe economic crisis, with strikes and months-long protests triggered by the removal of a fuel subsidy.
Speaking on Monday, Nigerian Senator George Akume, Secretary to the Government of the Federation (SGF), said that despite the challenges, Nigeria needs to maintain its unity.
"We are all agreed, as Nigerians, to live in a united, peaceful and prosperous country. As one people, one destiny in spite of our diversity this is very critical. Without this interest no nation can move forward," Akume said.
You can share this story on social media: