African nation foils alleged coup plot
Burkina Faso's ruling military government claims that its intelligence and security services prevented an attempted takeover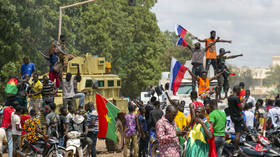 The ruling military government in Burkina Faso has apparently averted the West African region's latest coup attempt, saying its intelligence and security services blocked an effort to "plunge our country into chaos."
Officials disclosed the "proven coup attempt" on Wednesday and said that it had been thwarted the previous day. "Investigations will help unmask the instigators of this plot," the military government said in a statement, without identifying any of the suspected plotters or giving details on how the conspirators tried to carry out their takeover.
Unidentified military officers and their accomplices had the "dark intention of attacking the institutions of the republic," the government said. The incident came amid foreign media reports of rising tensions within Burkina Faso's armed forces. "At present, officers and other alleged participants in this destabilization attempt have been arrested, and others are being actively sought," officials said.
Thousands of demonstrators reportedly marched in the capital on Tuesday to show their support for the military leadership. The Ouagadougou government lamented that officers who swore to defend their country had "strayed into an undertaking of this nature, which aims to hinder the Burkinabe people's march for sovereignty and total liberation from the terrorist hordes trying to enslave them."
The current government came to power in Ouagadougou a year ago, after two military coups in eight months. Burkina Faso and other countries in West Africa's Sahel region have been destabilized by jihadist insurgencies with terrorist ties. In just the past two months, military coups have overthrown the governments of Gabon and Niger, Burkina Faso's landlocked neighbor to the east.
You can share this story on social media: