Commander of Libyan National Army visits Russia
Russian officials and LNA Commander Khalifa Haftar have had discussions about developments in Libya and bilateral relations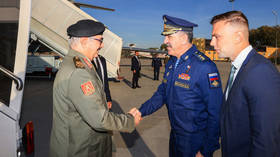 Field Marshal Khalifa Haftar, the supreme commander of the Libyan National Army (LNA), arrived in Moscow, Russia, for an official visit on Tuesday.
According to a Facebook post by the army's press service reported by Sputnik, "During the visit, negotiations were held with Russian high-ranking officials on the development of the situation in Libya, bilateral relations between the two countries, and ways to strengthen and develop them were discussed, the LNA noted."
The state anthems of both countries were sounded during the meeting between Russian Deputy Defense Minister Colonel General Yunus-Bek Evkurov and Haftar.
Haftar's visit to Moscow was previously reported by the Libyan edition of Al-Marsad as a "short working visit." According to reports, Russian Defense Minister Sergey Shoigu invited the commander of the LNA to come to the capital.
The Libyan House of Representatives appointed Khalifa Haftar as the commander of the armed forces loyal to the elected legislative body on March 2, 2015.
Moscow's deputy defense minister had previously visited Benghazi on September 17 to Benghazi to meet with Haftar and also visited Derna, a city that had been devastated by intense floods.
Meanwhile, along with contacts at the military level, this year Russia has returned to its full diplomatic presence in Libya after a nine-year break. In June, Russian Ambassador to Libya Aydar Aganin presented his credentials to the head of the Libyan Presidential Council.
You can share this story on social media: