France to withdraw from Niger – Macron
French troops will depart the west African nation in "the months to come," the president said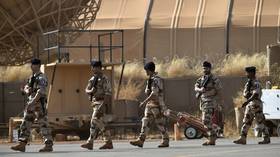 France will pull its military and diplomats from Niger after a successful coup by anti-French forces, President Emmanuel Macron said on Sunday. The move will see around 1,500 soldiers leave by the end of the year.
"France has decided to withdraw its ambassador. In the next hours our ambassador and several diplomats will return to France," Macron told France 2 television on Sunday. "And we will put an end to our military cooperation with the Niger authorities," he continued, adding that French troops would return home in "the months to come."
Niger's pro-French president, Mohamed Bazoum, was ousted in a military coup in July. Capitalizing on widespread public dissatisfaction with France's decade-long anti-insurgent operation in the region, the coup leaders immediately suspended a military cooperation agreement with the French government and demanded that French troops leave the country.
The military leaders of Niger then demanded in August that French ambassador Sylvain Itte leave, revoking his diplomatic immunity when Paris refused. Last week, Macron claimed that the Nigerian military was holding Itte "hostage" by blocking food deliveries to the French embassy.
Around 1,500 French soldiers are currently based in Niger, after Paris suspended military operations in Mali and Burkina Faso following similar coups d'etat in both countries. The French base in Niger was one of the largest in the Sahel region, and when the withdrawal is complete, only several dozen French troops will remain in Chad.
With French influence waning, Niger, Mali, and Burkina Faso announced the formation of a military alliance last week. Mali and Burkina Faso both informally committed to backing Niger in the event of an invasion by the regional ECOWAS bloc after the coup, and the signing of the defense pact formalizes this agreement.
Malian Defense Minister Abdoulaye Diop told Reuters that the Alliance of Sahel States, as the three-nation bloc will be known, will also work together to fight terrorism and secure their shared borders.
Despite acquiescing to the coup plotters' demands, Macron insisted that France continues to recognize Bazoum as Niger's "sole legitimate authority."
You can share this story on social media: