French military activities resume in Gabon after coup – AFP
Operations continue on a "case-by-case basis," French Armed Forces Minister Sebastien Lecornu told the media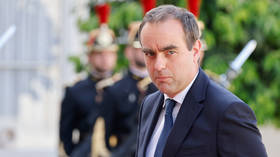 French military operations in Gabon are slowly resuming after being suspended over a week ago in response to the coup that deposed President Ali Bongo, France's Ministry of the Armed Forces announced on Monday.

"The actions are gradually resuming, on a case-by-case basis," French Armed Forces Minister Sebastien Lecornu told AFP.
Paris announced at the beginning of September that it had suspended military cooperation with Gabon's new authorities, who took power on August 30, hours after longtime leader Ali Bongo was declared the winner of the country's presidential election.
The coup leaders annulled the election results and dissolved national institutions, effectively ending the rule of the ousted president, who had been in office for 14 years and had his mandate renewed for a third term.
France has condemned the military takeover of its former colony and demanded that the election results, which the Gabonese opposition has labeled a "fraud," be respected.
In an interview with the French newspaper Le Figaro, Lecornu had previously stated that the operations of Paris' military officers stationed in Libreville to train Gabonese troops had been halted "until the political situation is clarified." The European country has about 400 soldiers based in Gabon.
Meanwhile, France has repeatedly rejected a request from Niger's new military rulers to withdraw its 1,500 troops from Niamey following a coup in July that caused tension between the two countries.
Niamey's coup leaders, who deposed President Mohamed Bazoum, accused Paris of failing to comply with their request that French troops leave the West African country by September 3.
French President Emmanuel Macron, who has repeatedly called Niger's military government an "illegitimate authority," said on Monday that Paris would only withdraw troops if deposed President Bazoum requested it.
"We don't recognize any legitimacy in the declarations from the putschists," Macron insisted on Sunday at the G-20 summit in New Delhi, India, according to Bloomberg.
However, Paris appears to have agreed to work with the new authorities in Gabon, with the French army minister previously telling Le Figaro that the situation in Libreville is incomparable to that in Niger.
"We cannot equate the situation in Niger, where illegitimate soldiers deposed a legitimately elected president, with that of Gabon, where the motive put forward by the military is precisely the non-compliance with the electoral law and the constitution. Because in fact, and I weigh my words, there are doubts about the sincerity of the elections in this country," Lecornu told the outlet.
You can share this story on social media: