Niger expects quick French withdrawal – post-coup PM
France's forces remain in Niamey "illegally" after the new military government revoked agreements last month, Ali Lamine Zeine says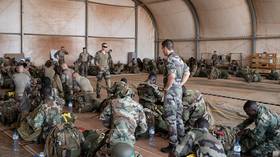 Niger expects a quick withdrawal of French troops after relations between France and the West African country deteriorated following a coup in July, military-appointed prime minister Ali Lamine Zeine has said.
"The government has already revoked the deals that allow for the French troops to operate on our territory," Zeine told reporters in the capital Niamey on Monday.
The French forces are in Niger "illegally," he clamed, adding that "talks are underway, which should allow for a swift withdrawal."
Paris withdrew troops from Burkina Faso earlier this year after the country's military rulers asked them to leave. France also pulled its forces out of Mali following tensions with the military government following a coup in 2020.
Protests calling for the withdrawal of the French Army from Niamey have increased since the ouster of President Mohamed Bazoum on July 26.
Earlier last month, Niger's coup leaders announced the cancellation of military agreements that allowed French forces to fight jihadist insurgents in the Sahel region, giving the former colonial power only a month to pull out its 1,500 troops.
The military authorities have also ordered the "immediate expulsion" of France's ambassador, Sylvain Itte, after he refused to meet with the military leaders, whom France has repeatedly labeled "illegitimate."
Paris has disregarded the orders to remove its troops and envoy, and instead expressed support for ECOWAS (Economic Community of West African States) sanctions and a possible military intervention to restore Bazoum's regime.
The French military reportedly warned on Friday that it was ready to respond if renewed tensions in Niger targeted its base and diplomatic facilities.
On Monday, the military-appointed prime minister said military action by ECOWAS did not have the backing of all its member states.
"Out of the 15 ECOWAS members, maybe three or four are behind a military intervention," Zeine said, as quoted by Bloomberg. "All the dispositions are in place, and we're ready to defend ourselves if it comes to it."
However, he added that the new rulers, whose proposal for a three-year transition was rejected by ECOWAS, "have hopes of reaching an agreement" with the bloc in the "coming days."
You can share this story on social media: