Gabon coup leader says ousted president 'free' to leave
The country's new ruler says President Ali Bongo, who was ousted last week, is now free to travel abroad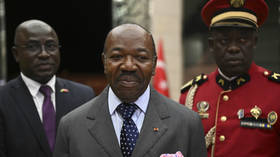 Gabon's deposed President Ali Bongo Ondimba, who had been under house arrest since he was removed from office last week, is no longer in custody and is able to leave the county, the new military leadership has said.
"Given his state of health, the former President of the Republic, Ali Bongo Ondimba, has freedom of movement. He can travel abroad if he wishes to carry out his medical checks," Colonel Ulrich Manfoumbi Manfoumbi said on state television on Wednesday evening, reading a statement signed by coup leader General Brice Oligui Nguema.
Ali Bongo, who had held power for 14 years after succeeding his father Omar Bongo, who had ruled from 1967, was put under house arrest after a group of uniformed Gabonese soldiers took power on August 30. The overthrow came hours after longtime leader Bongo was declared the winner of the presidential election, giving him a third term.
Nguema was sworn in as interim leader of the new military government on Monday, and vowed to hold "free" and "transparent elections" without specifying a date.
Bongo suffered a severe stroke in October 2018, leaving him with difficulty moving his right arm and leg.
You can share this story on social media: