Gabon coup leaders reopen borders
The country's new military rulers have said that they want "good relations with our neighbors"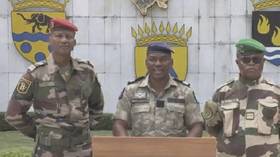 Officers from the Gabonese Armed Forces said on Saturday that they had reopened the country's land, sea, and air borders, three days after ousting former President Ali Bongo from power.
Bongo was overthrown on Wednesday and placed under house arrest, ending almost six decades of rule by his family. As soldiers locked down the capital city of Libreville, the chief of the Republican Guard, General Brice Oligui Nguema, was named interim head of state.
In an address on Saturday afternoon, an army spokesman said that the new government intends to resume normal relations with the rest of the world. He said that Gabon's land, sea, and air borders would be reopened "with immediate effect," because the military was "concerned with preserving respect for the rule of law [and] good relations with our neighbors and all states of the world."
Gabon, the spokesman said, wants to maintain its "international commitments."
The coup has been strongly condemned by the Economic Community of Central African States (ECCAS), while Nigerian President Bola Tinubu – who heads the Economic Community of West African States (ECOWAS) – warned on Thursday that "copycats will start doing the same thing until it is stopped."
Bongo's ouster is the latest in a wave of power transitions across West and Central Africa. Military leaders seized power in Niger in July, in Burkina Faso in 2022, and in Chad, Guinea, and Mali in 2021, all of which are former French colonies. Public discontent with a decade-long and deeply unpopular French anti-terrorist operation in Burkina Faso, Chad, Mali, and Niger has translated into widespread support for the coups.
Bongo's recent re-election gave the Gabonese military impetus to seize power. Army chiefs called his victory – supposedly with 64% of the vote – fraudulent, and declared that his 14 years in office had resulted in a "deterioration in social cohesion that risks leading the country into chaos."
Western observers have long considered Bongo corrupt, with Washington's Freedom House NGO expressing zero confidence that the ousted president was "elected through free and fair elections." A 2010 US diplomatic cable published by Wikileaks alleged that Bongo had embezzled millions of dollars from the Bank of Central African States.
You can share this story on social media: