France downplays diplomatic tensions with Morocco
The claim that the earthquake-ravaged African country rejected aid from Paris is a "misplaced controversy," according to Foreign Minister Catherine Colonna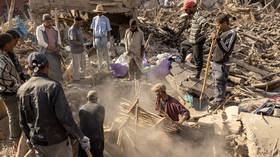 Morocco maintains full sovereignty over the aid it receives, the head of French diplomacy, Catherine Colonna, said on Monday in response to a question about why the African country had not requested assistance from France in dealing with Friday's earthquake, which has killed thousands.
The Moroccan government revealed on Sunday that it had accepted help from Spain, Britain, Qatar, and the United Arab Emirates. However, it has reportedly declined to take up France's aid offer.
A team of aid workers from Rescuers Without Borders were stuck in Paris because the organization could not receive approval from Rabat for French help, its founder, Arnaud Fraisse, claimed on Sunday.
"The Moroccan government is blocking all rescue teams except the one from Qatar, which is authorized to land there. They are arriving with 87 people and five search dogs. We do not understand this blocked situation," French broadcaster Radio France quoted Fraisse as saying.
Paris and Rabat have had strained relations in recent years, owing partly to the Western Sahara issue, in which Morocco wants recognition from France as part of its territory. The North African country has been without a diplomatic representative in Paris since January.
During an interview on BFM television on Monday, French Foreign Minister Catherine Colonna attempted to downplay any tensions between the two countries, which allegedly led to Morocco not formally seeking assistance from its former colonial power.
"Morocco has not refused any aid, any proposal. This is not how things should be presented," Colonna said, while referring to the claims as a "bad quarrel" and a "completely misplaced controversy."
"We are ready to help Morocco. It's a sovereign Moroccan decision, and it's up to them to decide," the minister insisted.
The Moroccan government has previously stated that it wishes to maintain control and avoid the possibility of a disorderly situation as a result of multiple countries and organizations offering assistance.
"The Moroccan authorities conducted a careful assessment of the needs in the field, taking into account that a lack of coordination in such cases would be counterproductive," the interior ministry said in a statement.
The earthquake has killed more than 2,000 people. According to a preliminary report from the French Foreign Ministry, four French citizens have died and 15 others have been injured among the more than 51,000 French citizens in Morocco.
Colonna announced on Monday that Paris had set aside 5 million euros ($5.4 million) for both French and foreign non-governmental organizations operating in Morocco.
You can share this story on social media: