Algeria comments on fatal shooting of jet ski tourists
The Defense Ministry claims that warning shots were ignored by the men, who strayed into the country's waters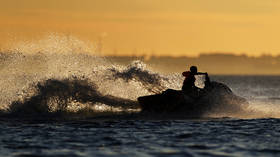 The two jet skiers, who were killed last week after entering Algerian waters, ignored warning shots and made "dangerous maneuvers" when confronted by a coast guard patrol, the country's Defense Ministry has claimed.
The ministry issued a statement on Sunday, its first public explanation since Tuesday's incident near the North African nation's maritime border with Morocco, in which two tourists were killed and a third arrested. A fourth jet skier in the group told reporters that he had been picked up by the Moroccan Navy and returned to the Saidia coastal resort after his brother and friend were killed.
The Algerian coast guard patrol intercepted three jet skiers after they breached the country's territorial waters shortly before 8pm on Tuesday, the Defense Ministry said. The intruders didn't respond to warning shots and refused repeated orders to stop, according to the statement.
"In view of the fact that this border marine area is known for intense activity of drug-smuggling gangs and organized crime – and in the face of the intransigence of the owners of these jet skis – the coast guard fired warnings shots, and after several attempts, they resorted to shooting at the jet ski," the ministry said.
Algeria's border with Morocco has been closed amid strained relations between the two countries since 1994. Algiers cut off diplomatic relations with Morocco in August 2021, citing Rabat's alleged hostility toward Algeria, including support for separatist groups.
The survivor denied hearing any warning shots. "I only heard gunshots directly that killed my brother Bilal," he told Reuters on Sunday. Bilal Kissi had dual French-Moroccan citizenship, as does the man who was detained by the Algerian authorities. Morocco's National Human Rights Council has condemned the shooting and demanded the release of the detained jet skier, Smail Snabi.
You can share this story on social media: