Nigeria suspends almost all diplomatic missions
President Bola Tinubu says the recall of all but two envoys is part of a major overhaul of Abuja's diplomatic missions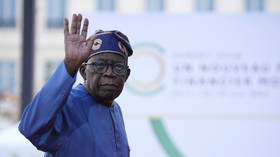 Nearly all of Nigeria's ambassadors are heading home in an overhaul of Abuja's diplomatic missions, President Bola Tinubu's office has announced. The two representatives at the UN will be spared for now, they added.
A press release published by Presidential Adviser Ajuri Ngelale on Saturday said that "President Bola Tinubu has directed the recall of all career and non-career ambassadors from their duty posts worldwide" with immediate effect.
According to the document, the decision was made as a result of a "careful study of the present state of affairs at Nigerian Consulate Offices and Embassies worldwide."
The stated aim of the measure is to ensure that Abuja's diplomatic missions deliver "world-class efficiency and quality."
Given the upcoming UN General Assembly, Nigeria's permanent representatives at the international body based in New York and Geneva are exempted from the recall, Ngelale said.
According to Reuters, the African nation has 109 diplomatic missions worldwide.
Tinubu, who assumed office in late May this year, has since replaced Nigeria's defense chief, along with the heads of the army, navy, and air force.
In June, the president also dissolved the boards of federal government institutions, agencies, and state-owned enterprises.
Among the reforms the president has carried out so far is the removal of fuel subsidies, with the aim of redirecting the funds toward the agricultural sector.
The measure has, however, seen a sharp rise in the cost of food and transportation in Nigeria.
You can share this story on social media: