Algeria rejects French request to use airspace for Niger operation – media
Paris claims, however, that it did not ask the authorities in Algiers for such permission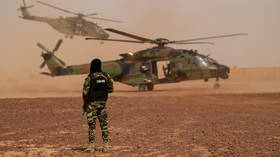 Algeria has turned down a request from France to fly over its airspace for a military operation in Niger, where President Mohamed Bazoum was ousted in a military coup in late July, several media reports suggested on Tuesday, citing the North-African nation's state radio.
Algerian national radio reported late on Monday that it had learned from sources that Paris was planning a strike against Niamey's new military rulers if they did not release Bazoum, who has been held in detention since July 26.

"Faced with Algerian refusal, France turned to Morocco, asking for authorization to pass its military planes through its airspace," state radio said, according to the Nova News Agency.
France, which has some 1,500 troops in its former colony Niger and has been conducting operations in the Sahel region against jihadist insurgencies, has been accused by the coup leadership of plotting to intervene militarily to restore the ousted president's rule.
The French foreign ministry denied any intention of armed intervention in the West African country but has repeatedly stated that it supports the efforts of the West African regional bloc ECOWAS, which has threatened to use force to reverse the coup.
"France's joint defense staff denies making a request to fly over Algerian territory," a source in the French army told Reuters.
ECOWAS said on Friday that it has decided on a date for sending troops into Niger if diplomatic efforts at Bazoum's restoration prove unsuccessful.
Benin, Ivory Coast, and Nigeria have all expressed willingness to contribute troops to the bloc's mission to restore democratic order in Niger.
Earlier this month, Algerian President Abdelmadjid Tebboune raised concerns about an armed response to the crisis in Niamey, which he fears "could ignite the whole Sahel region." He added that Algeria would not use force against its neighbors.
In a statement on Saturday, the Foreign Affairs Ministry of Algeria insisted on a peaceful restoration of democratic order, opposing the possible use of an ECOWAS "standby force" against the military leaders in Niger, saying military interventions "have brought more problems than solutions."
Meanwhile, the African Union (AU) warned on Tuesday against any external interference in Niger, after suspending the country's membership as punishment for the coup.
You can share this story on social media: