African free-trade alliance considering common currency
AfCFTA Secretary General Wamkele Mene is hoping for greater engagement with the continent by BRICS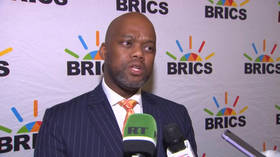 Cooperation between African nations and BRICS member states is crucial for the entire continent, as developing countries are now making a major contribution to global trade, Secretary General of the African Continental Free Trade Area (AfCFTA) Wamkele Mene has told RT.
Speaking on the sidelines of the BRICS summit in Johannesburg, Mene declared: "If you look at the economic profile of BRICS countries and its GDP, it's a significant part of the global economy." He added that in the next few days, there may be greater engagement with the rest of the African continent in terms of trade and investment.
According to Mene, BRICS countries should consider the African Continental Free Trade Area to be "an opportunity to expand into new dynamic areas AfCFTA presents."
Formed in 2021, AfCFTA is expected to become a continental market with a total GDP of more than $3 trillion, making Africa one of the leaders of a multipolar world. According to President Vladimir Putin, Russia is in favor of establishing ties with AfCFTA both through the Eurasian Economic Union and on a bilateral level.
Mene stated that the members of AfCFTA and the African Union have timelines within which they intend to introduce a common African currency.
"There will be challenges, but it's there," he said.
He identified a lack of infrastructure as the biggest disadvantage in Africa, and said support from BRICS countries in this area would be a positive sign.
The 15th BRICS summit is currently taking place in Johannesburg, South Africa. More than 20 countries have formally applied to join the group of developing economies, and several others have expressed an interest. In recent months, Argentina, Algeria, Egypt and Türkiye have hinted that they may seek BRICS membership.
You can share this story on social media: