Nigeria files new graft charges against suspended central bank chief
The government says the action is part of anti-corruption and economic reforms, but critics claim Godwin Emefiele is the victim of a political witch hunt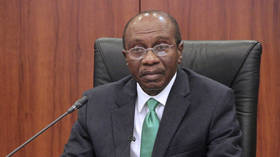 Nigerian government prosecutors filed a 20-count indictment on Tuesday against suspended and detained central bank governor Godwin Emefiele, charging him with "conspiracy," "unlawful procurement," and "conferring unlawful advantages."
Emefiele has been in detention since June, when President Bola Tinubu suspended him as part of an investigation into the country's central bank.
Tinubu, who took office in May, has criticized the bank's policies during Emefiele's tenure, particularly the redesign of the country's currency, the naira.
Critics claim that the arrest and prosecution of the former central banker, who attempted to run for president of Nigeria in February, is politically motivated.
The government, however, insists the move is part of the president's anti-corruption reforms and efforts to revitalize the country's ailing economy.
Last month, Africa's largest economy declared a state of emergency to tackle rising food prices and shortages, as record inflation has rendered basic foods unaffordable for many.
The government announced a number of measures to address the crisis, including using money saved from the recent removal of a fuel subsidy to purchase fertilizer and grain for farmers.
Meanwhile, Dahiru Balami, professor of economics at the University of Maiduguri, told RT that the removal of fuel subsidies was to blame for the recent decline in Nigeria's economy, which has exacerbated the suffering of locals.
To stabilize the economy, the government needs to take "urgent and immediate action," including "importation of basic food," he said, adding that "food insecurity is extremely high."
You can share this story on social media: