White House refuses to rule out support for Niger invasion
West African leaders are currently meeting to decide whether to launch a regime change operation in Niamey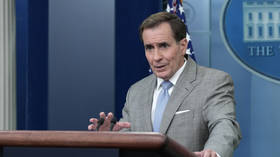 The US will not commit to backing or opposing a potential invasion of Niger by its West African neighbors, White House National Security Council spokesman John Kirby told reporters on Wednesday.
Speaking at a State Department briefing, Kirby declared that the US wants detained Nigerien President Mohamed Bazoum released from captivity and brought back into power, after his pro-Western government was overthrown by senior military leaders last month.
Asked whether Washington would support military intervention by the Nigeria-led Economic Community of West African States (ECOWAS) to restore Bazoum's government, Kirby was ambiguous.
"I'm not going to speculate about intervention one way or another from ECOWAS or anybody else," he said. "We still believe that there's time and space for diplomacy to get us to a resolution here which respects the will of the Nigerien people."
ECOWAS activated a standby force last week after Niger's new military government ignored an ultimatum to free Bazoum and relinquish power. Negotiations between the coup leaders and the regional bloc are ongoing, while ECOWAS officials meet in Ghana this week to make a final decision on military action, with a decision expected on Friday.
However, foreign support for an ECOWAS invasion is still lacking. France, Niger's former colonial master, has pledged its backing to "the efforts of ECOWAS to defeat this coup attempt," without specifying whether it supports a diplomatic or military solution, or both. Meanwhile the 55-member African Union refused to condone military action following a meeting on Wednesday, according to French media reports.
Without the African Union's support, an ECOWAS intervention is unlikely to go ahead, policy experts told Le Monde on Wednesday.
France and the US maintain military bases in Niger, with around 1,000 American and 1,500 French troops currently in the country. The coup leaders are adamant that this Western presence must end, and have suspended military and trade agreements with France. Paris has imposed sanctions on Niamey in response, while Washington has cut off foreign aid.
You can share this story on social media: