African Union rejects military intervention in Niger – media
Such a move by West African leaders "would be an unprecedented contradiction," according to a policy analyst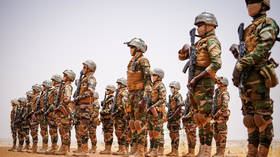 The Peace and Security Council (PSC) of the African Union has come out against the deployment of armed foreign troops to Niger, to free ousted President Mohamed Bazoum and restore constitutional order, the French outlet Le Monde reported on Wednesday.
The decision comes after the PSC met in the Ethiopian capital of Addis Ababa on Monday, to discuss the situation in Niamey and efforts to address it.
Bazoum was toppled on July 26 by members of his own presidential guard, provoking outrage from Western nations and some regional governments, which called for the coup to be overturned.
ECOWAS, the West African regional bloc, initially issued a 7-day deadline for the coup leaders to step down and then claimed they had rebuffed attempts at negotiation. The regional authority threatened to use force to reinstate the ousted Bazoum, whom the new military rulers have detained since taking power.
Last week, ECOWAS authorized the activation of a stand-by force for potential use against the putsch leaders, with the bloc's army chiefs meeting on Thursday and Friday to prepare for a military intervention if negotiations fail.
On Friday, African Union Commission Chairperson Moussa Faki Mahamat expressed "strong support" for the ECOWAS' decision and called on the junta to "urgently halt the escalation with the regional organization."
However, the PSC, the body responsible for deciding on issues of conflict resolution in Africa, has decided to disassociate itself from the use of force in Niamey, according to diplomatic sources cited by Le Monde.
The decision, which will be formalized on Wednesday, was reached after a "tense" meeting on Monday that lasted "more than ten hours," according to the outlet.
Paul-Simon Handy, senior policy advisor at the Institute for Security Studies, told Le Monde that ECOWAS will find it difficult to launch a military offensive in Niamey without the approval of the African Union.
Without the union's backing, such an operation "would be an unprecedented contradiction," Handy is quoted as saying.
Earlier this month, the Nigerian Senate also declined to give approval to ECOWAS Chairman Bola Tinubu to send soldiers against the coup leaders in neighboring Niger.
The Senate urged Tinubu and other West African regional leaders to explore diplomatic means to resolve the crisis.
You can share this story on social media: