South Africa under US pressure to ban Chinese technology – diplomat
Anil Sooklal, Pretoria's envoy to Asia and BRICS, says his country will not succumb to Washington's push to abandon Huawei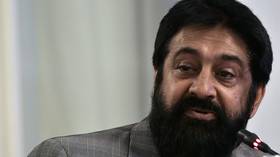 South Africa will continue to use technology made by Chinese company Huawei despite pressure from the US, Pretoria's ambassador to Asia and BRICS, Anil Sooklal, has said.
Speaking at the University of KwaZulu-Natal last week, Sooklal stated "there was tremendous pressure" on Pretoria from Washington to "stop using the Huawei network."
"It is banned in the US, and a major part of Europe has banned Chinese technology," the diplomat added.
Huawei was sanctioned in the US in 2019 over concerns that the Chinese government may use the company's critical telecommunications infrastructure for espionage.
South Africa, which has close ties with China as trading partners and BRICS members, has received thousands of training and technology transfer opportunities over the years from Huawei, Sooklal said.
Last month, Huawei opened an innovation center in Johannesburg, a move that South African President Cyril Ramaphosa said will help the country and the African continent to move into the Fourth Industrial Revolution.
You can share this story on social media: