France freezes aid to Burkina Faso
The move follows Ouagadougou's endorsement of the coup in Niger, Paris' only remaining military partner in the Sahel region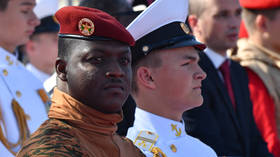 The French government announced on Sunday that it is halting financial assistance to Burkina Faso over the West African nation's stance on the coup in Niger.
"France suspends, until further notice, all its development aid and budget support actions in Burkina Faso," the ministry said in a statement, without elaborating.
The decision comes just days after the ruling juntas in Burkina Faso and Mali declared their support for Niger's coup leaders, and threatened to treat any armed intervention against Niamey's new military leadership as a declaration of war.
The putsch in Niger on July 26 saw President Mohamed Bazoum deposed and detained, and national institutions shut down. The military explained that they had decided to "put an end to the regime due to the deteriorating security situation and bad governance".
Bazoum, who was elected in 2021, welcomed 1,500 French troops into Niger last year to fight a jihadist insurgency in Africa's Sahel region, after France withdrew from Mali due to a deterioration in relations with the leadership there.
Paris has expressed alarm over the situation facing its only remaining military partner in the Sahel region, and like other Western and regional leaders, has condemned the power grab.
The ousted government's allies, including Paris, have imposed sanctions in an attempt to force the military leaders to restore constitutional order, but General Abdourahamane Tchiani – the head of the transitional government – has said he will not submit to threats.
The Economic Community of West African States (ECOWAS) issued a one-week ultimatum to the military leadership last week, warning it would send in troops if Tchiani and his cabinet of generals did not relinquish power and restore President Bazoum. The deadline expired on Sunday, prompting the military government to shut down the nation's airspace until further notice.
Air France announced on Monday that it had halted flights to and from Burkina Faso and Mali until August 11, following the closure of Niger's airspace.
Last week, Niger's new junta revoked five military deals with France dating between 1977 and 2020, amid a growing wave of anti-French protests, with some locals accusing the former colonial power of meddling in their affairs.
Earlier this year, Burkina Faso terminated a military agreement that permitted French forces to fight Islamist insurgencies linked to al Qaeda and Islamic State. The military government insisted that Ouagadougou would independently defend itself against militant threats.
You can share this story on social media: