Regional bloc threatens Niger with military action
West African countries have vowed to intervene unless the junta in Niamey steps down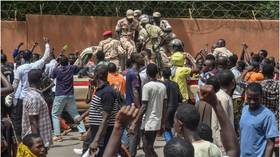 A bloc of West African states has warned that it may use force against the coup leaders in Niger if they do not reinstall the recently overthrown government and release the deposed president, Mohamed Bazoum.
The Economic Community of West African States (ECOWAS), a group consisting of 15 countries, delivered the seven-day ultimatum to its own member following an emergency meeting held in Abuja, Nigeria on Sunday. If the demands are not met within one week, the group will "take all measures necessary to restore constitutional order in the Republic of Niger," the communique read.
"Such measures may include the use of force," ECOWAS said, adding that the members' chiefs of staff are ready to meet immediately if necessary.
The African Union issued a similar ultimatum on Friday, threatening "punitive measures" if Niger's military junta refuses to stand down in 15 days.
The spokesperson for Niger's coup leaders, Colonel Major Amadou Abdramane, accused ECOWAS of "planning an aggression against Niger," and affirmed the new authorities' determination to "defend the country."
A pro-coup rally took place in the country's capital, Niamey on Sunday, during which protesters denounced France, Niger's former colonial power, and set the door of the French Embassy on fire.
President Bazoum was detained and subsequently removed from power last week. General Abdourahamane Tchiani, who has led the Nigerien presidential guard since 2011, appeared on television on Friday, declaring himself the country's new leader.
The coup was condemned by the UN Security Council and the African Union. The EU has cut off all financial support to Niger, one of the poorest countries in the world, with the US threatening to do the same.
Moscow denounced the coup as an "anti-constitutional act." The Russian Foreign Ministry called on all parties to refrain from using force.
In January 2017, ECOWAS sent troops to Gambia after its president at the time, Yahya Jammeh, refused to step down after losing an election. The intervention saw little resistance and forced Jammeh to leave the country.
You can share this story on social media: