US and UK media pour scorn on Russia-Africa summit
Coverage of the St. Petersburg meeting appeared to follow cherry-picked talking points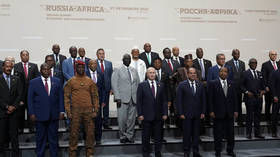 British and American outlets have embraced a set of similar talking points in their coverage of the Russia-Africa summit taking place this week in St. Petersburg, focusing on the number of presidents in attendance, blaming Moscow for the demise of the Black Sea "grain deal," and bringing up the presence of Wagner on the continent.
A total of 49 African countries sent officials to the two-day summit, which ended with a 74-point joint declaration pledging cooperation in developing a multipolar world order. Western outlets, however, chose to focus on the number of presidents in attendance and a quote by Kenyan diplomat Korir Sing'Oei, who tweeted last week that calling off the grain deal was "a stab on the back at global food security prices."
Russia decided not to extend the year-long arrangement that allowed Ukraine to export 33 million tons of grain – mainly to the EU, Türkiye, and China, with only a tiny amount reaching Africa – because the UN never enabled the export of Russian grain and fertilizer, which were blocked by Western shipping sanctions.
CBS News claimed that the "small crowd" at the summit reflected "Africa's changing mood on Moscow," basing this on the remarks of one South African professor.
"Just 17 African heads of state, according to Russia's own tally, showed up for the summit. That's less than half of the 43 leaders who participated in the first Russia-Africa summit in 2019," the American broadcaster noted, without once mentioning that a total of 49 African countries were represented at the conference.
"Kremlin seethes over poor summit turnout," CNN declared in a headline, echoing the "just 17" talking point. There was nothing to corroborate the claim of "seething," however – only another assertion, further down, that the Kremlin "fumed" over the "poor turnout" when referring to Western pressure on the continent's leaders.
"Any idea that Africa as a whole leans toward Russia is clearly mistaken," argued Washington Post columnist Adam Taylor, using votes in the UN General Assembly as his metric. Taylor also brought up "less than half of 43," the grain deal, and Sing'Oei.
Newsweek also echoed the 17/43 difference, though it noted that 32 more countries were represented by officials or ambassadors. Their headline, however, focused on mockery of President Vladimir Putin's handshake with the Ethiopian prime minister by the Polish-based Telegram channel Nexta, which promotes Ukrainian narratives and regime change in Belarus.
Time had a more ambitious headline, 'Why African Leaders Are Staying Away From Putin's Russia-Africa Summit', but instead of delivering on the clam, provided the same talking points – grain deal, Sing'Oei, Wagner – bolstered by quotes from Western think-tanks.
'Putin Left Red-Faced As Few African Leaders Turn Up To His Russia Summit', claimed HuffPo, a surviving subsidiary of BuzzFeed. They too went with 17/43, the grain deal, the quote by Sing'Oei and Wagner, but also chose to highlight that 49 African leaders showed up at US President Joe Biden's 'summit' last December.
HuffPo also attributed the phrase "it seems the novelty has worn off" to the Russian outlet Kommersant, though it was in fact a bit of editorializing from a tweet by BBC correspondent Steve Rosenberg.
The British press also checked off the talking points: only 17 leaders, grain deal, "stab in the back" quote, Wagner. 'Kremlin blames west for small number of leaders due at Russia-Africa summit', proclaimed the Guardian, also bringing up Biden's December summit as a comparison.
'Fresh humiliation for Putin as he faces poor turnout by African leaders', was the Daily Mail's headline of choice, even as they admitted 32 more countries were represented at some level.

You can share this story on social media: