More deaths reported as Kenyans protest tax hikes
Demonstrators faced off with riot police in a new round of rallies in several parts of the country, according to local media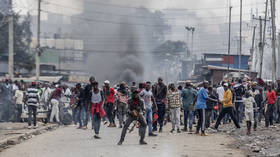 Violent clashes between Kenyan police and anti-government protesters have resulted in the killing of six people in the East African country, Associated Press reported on Wednesday, citing a law-enforcement official.
Earlier, the Nairobi-based outlet K24 said a man died as a result of a police gunshot in the town of Emali during a second round of rallies called by opposition leader Raila Odinga in response to a slew of tax hikes. That incident prompted angry residents to set a police van on fire and destroy other properties, it stated.
Three protesters were killed in Mlolongo city, two in Kitengela town near Nairobi, and one in Emali, on a highway to the port city of Mombasa, according to an unnamed police officer who spoke to AP. More than ten others are said to have been hospitalized.
Hundreds of protesters reportedly barricaded a key highway connecting the capital Nairobi to Mombasa, disrupting vehicular movement on Wednesday.
Footage circulating on social media and local news outlets shows sections of the 27.1-kilometer Nairobi motorway linking the capital to the airport vandalised by protesters, who set fires along the road.
The expressway road-travel management company announced that it had "temporarily" halted toll services at three stations "due to the ongoing demonstrations."
The Daily Nation newspaper says that, in the incident in Mlolongo, a city near Nairobi, police opened fire on protesters, leaving three dead and several injured.
Odinga, the leader of the Azimio Coalition, who lost to the then-candidate, now President William Ruto in presidential elections last year, has been leading actions against his rival, accusing him of failing to address the country's high cost of living.
Last Friday, at least six people were killed and dozens were arrested, according to police, during marches across Kenya in protest at the taxes, which were included in a finance bill signed into law by Ruto last month.
Odinga, who launched a petition seeking ten million signatures by Friday, canceled a planned rally for Wednesday, citing police brutality and damage to equipment. The petition supports his calls for the government to repeal the new law, which, among other measures, doubles the fuel tax from 8% to 16% and introduces a 1.5% housing levy for all employees.
He said the decision to call off the rally was made to protect supporters, amid the reports of deaths and injuries from various parts of the country.
"We received intelligence of a most heinous plan by [Ruto's political party] Kenya Kwanza to ferry armed goons who would attack peaceful attendees of our rally in Kamkunji. These goons had express orders to shoot directly into the crowd, while enjoying police protection," the opposition leader told reporters.
You can share this story on social media: