Toxic gas leak kills more than a dozen in South Africa
Illegal gold mining activity in the area is to blame, according to officials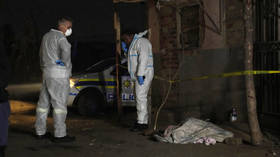 At least 17 people, including children, died from nitrate gas inhalation as a result of a gas leak in a South African informal settlement on Wednesday. Officials have linked the incident to illegal gold mining activity in the area.
Residents of Angelo in the city of Boksburg, where the leak occurred, have expressed their outrage, claiming that they were unaware that illegal miners use gas for their trade.
"We feel really bad because none of us suspected something like this could happen. This has affected everyone in a big way because innocent people have lost their lives," a local told RT.
A woman who said she had lost two relatives in the accident conveyed her frustration at being left alone with no one to care for her.
"I found my son and my daughter-in-law dead. As I sit here I have no idea what I'm going to do now. I'm unemployed. My son was the only breadwinner and now he's dead," she said.
Pretoria police said several others were taken to the hospital for medical evaluation, and that investigations into the events leading up to the incident were ongoing.
South African President Cyril Ramaphosa said he was "deeply" saddened by the accident and urged investigators to find out the cause in order to avoid similar disasters in the future.
You can share this story on social media: