Hundreds die in Ethiopia after West pauses food aid
700 people have died of starvation in the Tigray region since the US and UN paused food aid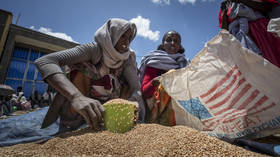 Food shortages in Ethiopia's northern Tigray region have resulted in the deaths of at least 700 people, according to the Tigray Disaster Risk Management Commission. The US and UN recently cut off food aid to one-sixth of the country's population due to allegations of massive aid theft.
In March, the West suspended food aid to the region after discovering cases of wheat for the needy being stolen. The suspension was extended to the rest of Ethiopia in early June and affected 20 million people in need, with US officials saying they found large amounts of food aid for sale in local markets.
So far, 728 famine-related deaths have been recorded by the Commission in the region since the suspension in March.
That number includes 350 starvation deaths in the northwestern part of Tigray, where thousands of displaced people are situated following a two-year conflict that ended last November.
On June 14, the UN said the number of children admitted to hospitals in Tigray due to hunger rose by 196% between April 2022 and April 2023.
Political economist Yared Zeleke told RT on Wednesday that it is "a political issue, not a humanitarian one." He believes there is a "game being played" by the donor governments, explaining that it is "nothing new" that aid is looted, but most of the time a blind eye is turned.
"The people who need aid need to be supported…and then at the same time the aid money should not be used as a political tool or to enrich corrupt officials," he said.
You can share this story on social media: