NATO member threatens African aid cuts over support for Russia
The Finnish government's approach is a classic case of coercive diplomacy, a South African politician has told RT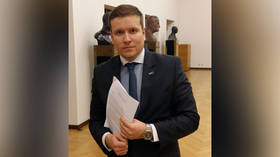 African countries that back Russia in the Ukraine conflict will lose development assistance from Finland, the country's foreign trade and development minister, Ville Tavio, said on Monday.
The new Finnish government led by Petteri Orpo is seeking to cut development aid by around $1 billion and redirect the savings. Tavio told national broadcaster YLE that "Ukraine will become a new recipient country."
In a separate interview with The Times, the minister claimed his country's "primary duty is to support Ukraine," arguing that it is "morally wrong" for countries that support Russia's "aggression" against Kiev to continue receiving development aid from Finland.
"Developing nations should focus on their internal development instead of endorsing Russia's war. I am keeping an eye on countries that receive aid from Finland, but choose not to respect international rules-based order and Ukraine's state sovereignty," Tavio said.
Although the minister did not name any countries, Ethiopia, Kenya, Tanzania, Somalia, and Mozambique are Finland's main partners in Africa, having received foreign aid from Helsinki for decades.
Several countries on the continent, including South Africa, have remained non-aligned in the conflict between Russia and Ukraine, despite foreign pressure to back Kiev.
South African politician Themba Godi, a former member of the National Assembly, described it as a "disgrace" for the Finnish government to threaten African nations with aid cuts.
"It's a classic case of coercive diplomacy where threats and blackmail are used to achieve certain positions," Godi told RT. He added that "positions that countries take on the Russia-Ukraine conflict may not necessarily be informed by rational thinking and independent decisions but may be the product of blackmail."
According to Godi, Helsinki's stance only reinforces the view that countries that are US allies have no regard for Africans.
The continent's nations, he added, are more drawn toward Russia and China as a result of bullying by Finland and others.
The new Finnish government has additionally outlined plans to tighten immigration rules and make it more difficult for foreign nationals to obtain residency or citizenship in the country.
You can share this story on social media: