Macron wants to join BRICS summit – Paris
French Foreign Minister Catherine Colonna has confirmed her president's intention to attend a bloc summit for the first time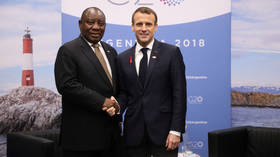 France has requested an invitation to the BRICS summit scheduled for August in South Africa, Foreign Minister Catherine Colonna has announced. Should it be granted permission, France would be the first G7 country to attend a summit held by the bloc.
Colonna revealed that she had informed Pretoria of French President Emmanuel Macron's "interest" in attending the conference as an observer.
"I informed my counterpart… of the president's availability and interest in pursuing dialogue that France maintains with the BRICS," Colonna said at a press conference in Pretoria on Tuesday after a meeting with her South African counterpart, Naledi Pandor, according to AFP.
The 15th summit of the BRICS group of large emerging economies – Brazil, Russia, India, China, and South Africa – will be held in Johannesburg from August 22 to 24.
Macron's relations with BRICS member Russia are particularly strained. The French president has accused Moscow of spreading anti-French propaganda in African countries, where Paris has lost influence in recent years. The French leader has also called for peace talks in Ukraine and has positioned himself as a potential mediator, despite continuing to send heavy weapons to Kiev and supporting a Ukrainian-drafted peace plan that Russia strongly opposes.
Colonna is quoted by French public broadcaster RFI as saying that Paris is "thinking out loud," adding that "dialogue is always positive; even when you don't agree 100% on everything, you have to talk to understand each other and to find solutions."
In response, South African Foreign Minister Pandor believes France's participation would be an "innovation within the current BRICS participation model" that would "amplify the global reach of the BRICS forum."
However, she said the decision is up to South African President Cyril Ramaphosa, who is the current chairman of the bloc.
During a phone call with Ramaphosa earlier this month, Macron reportedly mentioned the possibility of receiving an invitation to attend the BRICS summit in Johannesburg.
Ramaphosa is scheduled to travel to Paris later this week for a summit on a new global financing pact on June 22 and 23.
You can share this story on social media: