UN objects to Ugandan anti-LGBTQ law
The global body called for an end to the "criminalization of consensual same-sex relations"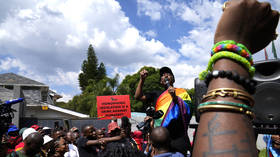 The United Nations has urged Uganda to rethink its new Anti-Homosexuality Act, which imposes harsh penalties for citizens who "promote" gay lifestyles, as well as capital punishment for certain offenses. The UN secretary-general pointed out that the measure conflicts with key international treaties and violates the rights of Ugandan citizens.
Asked about the recently signed legislation at a press conference on Tuesday, the chief spokesman for Secretary-General Antonio Guterres, Stephane Dujarric, said the UN is "very concerned" about the anti-LGBTQ law.
"The secretary-general has been very clear and continues to call on all member states to uphold the Universal Declaration of Human Rights, in particular the adherence to the fundamental rights of and principles of non-discrimination and respect for personal privacy," Dujarric said.
He added that Guterres "again calls on all countries to decriminalize consensual same-sex relationships and transgender people everywhere. To put it clearly, no one should be penalized, jailed, criminalized for whom they love."
Signed into law on Monday, the Anti-Homosexuality Act proposes 20-year prison sentences for anyone found "promoting" homosexuality, and even mandates the death penalty for "aggravated homosexuality," which includes sex crimes against children, having sex while HIV positive, and incest. Uganda had already banned same-sex relationships, but the new law imposes much stiffer punishments.
The UN's Human Rights Office previously called for an "urgent" judicial review of the "draconian and discriminatory" law, which it denounced as a "recipe for systematic violations of the rights" of Ugandans.
Washington has also weighed in on the law, with President Joe Biden calling it "shameful," while suggesting it could affect relations with the US, including the provision of humanitarian assistance. The White House had previously warned of "repercussions" for the LGBTQ legislation, hinting at possible visa restrictions, cuts to aid budgets, and even economic sanctions.
Some Ugandan officials have pushed back on what they see as undue foreign interference in their country, with MP Asuman Basalirwa recently telling RT that the US should stay out of Ugandan affairs. "This law here was signed by the president of the Republic of Uganda. May I invite America, Canada, Britain, and the entire Europe to also cancel the visas of [President Yoweri] Museveni?" he said.
You can share this story on social media: