US has no right to meddle in Uganda's anti-LGBTQ laws – MP
Washington claims recent legislation violates human rights and says it may enforce visa restrictions on officials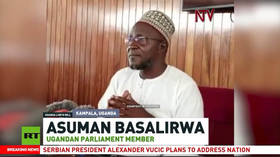 The US is selectively imposing sanctions in response to Uganda's anti-homosexuality legislation, MP Asuman Basalirwa has claimed. The politician told RT on Monday that decisions on internal affairs should be left to each country.
"I have no problem with the way a country manages their affairs. My only problem with these people is single-picking. This law here was signed by the president of the Republic of Uganda. May I invite America, Canada, Britain, and the entire Europe to also cancel the visas of Mr. Museveni?" Basalirwa stated.
The signing of the Anti-Homosexuality Act 2023 by President Museveni has drawn condemnation from human rights organizations and activists, some of whom have threatened legal action against the Ugandan government.
US President Joe Biden described the law as "shameful" and a threat to all individuals in Uganda, including US government personnel. He added that Washington may impose sanctions and visa restrictions, as well as evaluate the implications of the law "on all aspects of US engagement with Uganda."
You can share this story on social media: