African nation withdraws from Russia football match – media
The Russian national side has remained suspended from most major international competitions since last year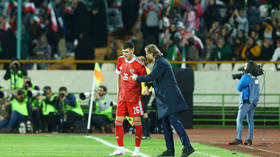 The government of Cameroon has withdrawn the five-time African champions from a planned friendly game against Russia in Moscow, Sport Express reported on Tuesday.
The fixture was due to take place on June 15 at Moscow's 76,000-capacity Luzhniki Stadium – the venue which hosted the 2018 World Cup Final – but now appears unlikely to go ahead, Sport Express says, citing the decision by Cameroon's government. Media sources representing the Cameroonian football authorities have offered no further clarification on the report.
Last month it emerged that the Russian Football Union (RFU) and its president, Alexander Dyukov, had engaged in discussions with representatives of several major African football teams with a view to holding friendly matches this year, according to comments from RFU Secretary General Maksim Mitrofanov.
The RFU was said to be "negotiating with African and Latin American" football federations "who are now free and which are playing official football matches," Mitrofanov said in April, adding that "preliminary agreements" had been made with some nations.
Russian international and club sides remain suspended from most major competitions following a wave of sanctions imposed on Russian sport by the international sporting community in the aftermath of Moscow's offensive on Kiev last year.
In March, Russia played a friendly match against Iraq at Saint Petersburg's Gazprom Arena where Valeri Karpin's men won 2-0. This came three days removed from a 1-1 draw against Iran in Tehran. These fixtures followed others Russia played in Uzbekistan and Tajikistan in November and against Kyrgyzstan in September.
Commenting on the return of international football to Russian turf against Iraq in March, Mitrofanov said this showed that it was possible for friendly matches to take place without incident within the Russian Federation.
"Colleagues from FIFA and UEFA have followed and are following our international matches," he said last month. "We were able to show everyone that this is possible. It is positive that the match was held in Russia."
Figures within the RFU formed a working group last year to discuss the possibility of Russia transferring its international affiliation from the European football framework, UEFA, to the Asian Football Confederation. It had appeared as though these discussions had been shelved but in late April, Russia's former FIFA council member said that "the issue of moving to Asia has not yet disappeared."
You can share this story on social media: