Sudanese nationals 'stranded' after US destroys passports – media
The American Embassy shredded the passports of visa applicants before it abandoned its building in Khartoum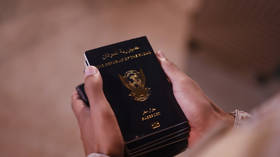 When US diplomats evacuated their embassy in Khartoum, they destroyed the passports of Sudanese and "other third country nationals" who were in the process of applying for American visas, the Middle East Eye reported on Friday. With fighting raging in the capital, those without passports are now unable to escape the carnage.
The US State Department pulled its diplomats from Sudan and shut its embassy in Khartoum last month, shortly after armed conflict broke out between Sudanese government forces and Rapid Support Forces paramilitaries.
A State Department spokesperson told the Middle East Eye that embassy staff destroyed documents and materials including passports belonging to Sudanese citizens before the pullout.
"Our Embassy in Khartoum had passports of Sudanese and other third-country nationals who were in the process of applying for visas and passports of US citizens applying for consular services," the spokesperson said. "Because the security environment did not allow us to safely return those passports, we followed our procedure to destroy them rather than leave them behind unsecured."
The owners of these passports were left in a vulnerable position. A Sudanese software engineer who was due to start a university program in Iowa in May had already received his visa when fighting broke out, but his passport had not been returned. The student told the Middle East Eye that he planned on fleeing north to Egypt and journeying on to the US from there, but could not do so without his passport.
The student was told by the US authorities that he could have an old passport renewed, but he did not have an old passport. "I couldn't start my studies and now after destroying the passport, I can't even leave my country to stay in a safe place," he said.
Another student who had been accepted to the US told a similar story, saying that his passport had been held at the embassy since January.
At present, the only place where the Sudanese government "may be issuing new passports and travel documents" is at the border with Egypt, the State Department spokesperson said.
A week after the embassy closed, the US began evacuating American citizens, locally employed staffers, and people from allied countries from Sudan to Jeddah in Saudi Arabia. Other nations, including France, Germany, Spain, the UK, and Saudi Arabia, all removed thousands of their citizens from Sudan in late April.
The conflict in Sudan entered its second month this week, despite US-brokered talks continuing in Jeddah. At least 833 people have been killed and 3,329 others injured since fighting began on April 15, according to the Sudan Doctors Union.
You can share this story on social media: