Türkiye offers to host mediation talks for Sudan
President Erdogan says Ankara is ready to help with discussions if the military rivals agree to start comprehensive negotiations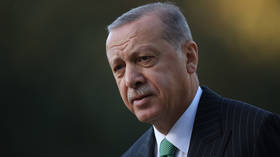 Türkiye is "ready to host talks" for Sudan if a decision is taken by the warring parties to begin comprehensive negotiations, President Recep Tayyip Erdogan said on Tuesday.
In a phone call with Sudan's Sovereign Council chairman, General Abdel Fattah al-Burhan, Erdogan "voiced his sadness and concerns" over the rising number of casualties in the armed conflict that erupted in mid-April, a statement from the Türkiye's Communications Directorate said.
He also addressed efforts to ensure the safety of Turkish citizens in Sudan and evacuate them from the country, the statement said.
Ankara will also continue its efforts "in contact with the United Nations to ensure that the urgent humanitarian needs of the Sudanese people are met."
While ceasefire talks between the military rivals began on Saturday in Saudi Arabia's coastal city of Jeddah, backed by Washington, a Saudi diplomat told AFP on Monday that the discussions had yielded "no major progress."
Intense fighting, which broke out as a result of a power struggle between generals of the Sudan Armed Forces (SAF) and Rapid Support Forces (RSF), has killed at least 550 people, with around 5,000 injured since April 15, according to the Sudanese Health Ministry.
The UN Refugee Agency is seeking $445 million to provide immediate support for an estimated 860,000 refugees and returnees from Sudan across Chad, South Sudan, Egypt, Ethiopia, and the Central African Republic.
Erdogan, who is seeking a third term as president in the May 14 election, has attempted to position Türkiye as a mediator in other conflicts, including the Russia-Ukraine crisis.
In December last year, the Turkish leader criticized the West for "making provocations" instead of acting as a mediator in the Ukraine conflict and highlighted Türkiye's efforts last year in brokering the Black Sea grain corridor deal.
You can share this story on social media: