Sudan's warring parties enter ceasefire talks
Rivals agreed they bear responsibility to help alleviate the suffering of the nation's population, Saudi foreign ministry has said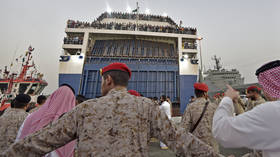 Airstrikes rattled Sudan's capital Khartoum on Monday as efforts during the weekend to broker a ceasefire appear to have proven fruitless, with a Saudi diplomat telling AFP that both sides of the conflict are confident in their ability to emerge victorious from the hostilities.
Talks between the warring military factions began on Saturday in Jeddah, with facilitator Saudi Arabia expressing hope that the discussions, which mark the first attempt at reconciliation since the outbreak of fighting over three weeks ago, would lead to an effective ceasefire.
Representatives of the Sudanese Armed Forces (SAF) and the Rapid Support Forces (RSF) "began review of the proposed Declaration of Commitment to Protect Civilians and Facilitate and Respect Humanitarian Action in Sudan," the Saudi Ministry of Foreign Affairs said early on Monday, confirming the start of negotiations.
According to the ministry, both parties recognized the need to ease the suffering of the Sudanese people and agreed to "reach near-term agreement on security measures to facilitate the delivery of emergency humanitarian assistance and the restoration of essential services to those in need," which were the meetings' goals.
However, a Saudi diplomat who spoke to AFP on the condition of anonymity said the talks had produced "no major progress" as of Monday. "A permanent ceasefire isn't on the table... Every side believes it is capable of winning the battle," the diplomat added.
Martin Griffiths, the UN Under-Secretary-General for Humanitarian Affairs and Emergency Relief Coordinator, is said to have traveled to Jeddah, where he is expected to participate in the Washington-backed talks.
The meetings in Jeddah that will "continue in the coming days in the expectation of reaching an effective short-term ceasefire" are also aimed at expanding negotiations to achieve a "permanent cessation of hostilities," the Saudi foreign ministry said, without providing a specific timeline.
The Sudanese Ministry of Health puts the overall death toll, including that of fighters, at 550, with around 5,000 also injured since April 15, when violent clashes between the SAF and RSF erupted in Khartoum.
Previous truces were reportedly violated by gunfire and heavy artillery fire in parts of Sudan's capital and nearby cities, while more than 100, 000 people have been sent fleeing for their lives, according to the United Nations, as RSF General Mohamed Hamdan Dagalo and SAF General Abdel Fattah al-Burhan accuse each other of violations.
Last Monday, Volker Perthes, the head of the UN Integrated Transition Assistance Mission in Sudan warned of a "major humanitarian crisis" as Khartoum residents run out of food and clean water, while announcing that the warring forces had agreed to engage in negotiations on a sustained armistice.
You can share this story on social media: