South Africa's army chief visits Moscow
The bilateral meeting with Russian counterparts includes a visit to prestigious army and artillery military academies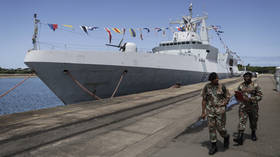 The commander of South Africa's ground forces has visited Moscow for bilateral talks with his Russian counterparts, in the wake of Washington's accusations that Pretoria has covertly supplied arms to Russia.
The South African National Defence Force (SANDF) said on Monday that Lieutenant General Lawrence Mbatha received an invitation from the Russian army "for a goodwill visit," which "includes a call to the higher combined Army Academy and the Artillery Military Academy." The SANDF added that the trip had been "planned well in advance," emphasizing that the bilateral encounter is a "longstanding arrangement."
South Africa, as a member of the BRICS alliance, has declined to impose sanctions on Moscow, despite pressures from Western countries. President Cyril Ramaphosa has emphasized that South Africa's neutrality in the Russia-Ukraine conflict allows it to engage in dialogue with both sides.
Last week, US Ambassador to South Africa Reuben Brigety alleged that Pretoria had shipped weapons to Russia in December, loading them onto a cargo ship at Simon's Town Naval Base in Cape Town. The South African government has denied the claims, which Ramaphosa said "undermine the spirit of cooperation and partnership" between Pretoria and Washington.
Brigety later allegedly admitted that he'd "crossed the line and apologized unreservedly" after he was summoned to South Africa's Department of International Relations and Cooperation on Friday for a talk with Foreign Minister Naledi Pandor.
You can share this story on social media: