Uganda delays new anti-LGBTQ law
President Yoweri Museveni has returned legislation passed in March to parliament for improvement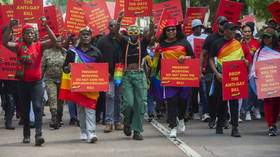 Ugandan President Yoweri Museveni declined on Thursday to sign the country's anti-homosexuality bill into law, instead returning it to parliament for revision to ensure it does not "frighten" people who need "rehabilitation."

Following a meeting with lawmakers, Museveni proposed that a provision of the legislation that imposes punishment for people who voluntarily come out as having practiced homosexuality be decriminalized.

"This country has issued amnesty for people who have carried out criminal activities of treasonous nature against this country. A similar provision would be provided in this law to ensure that a person who comes out on his own is not criminalized," he said.

Uganda's parliament approved the anti-LGBTQ bill on March 21. The legislation makes certain homosexual acts a capital crime, with the death penalty for "aggravated homosexuality" and life imprisonment for "recruitment, promotion and funding" of homosexual "activities."

Museveni has vowed to approve the bill despite strong opposition from numerous foreign LGBTQ advocacy groups, which have condemned the measure as "hate legislation" and "discriminatory."

The East African country's leader, who previously referred to homosexuals as "deviations from the normal," explained his delay in signing the bill, stating that although he agrees with it "totally," his concern is for the "psychologically disoriented person."
"Since we have agreed now, I'm going to return that bill, and you quickly deal with those issues and we sign it," Museveni said, promising to meet with the Ugandan parliament's Legal Committee and other parties in the coming week to finalize the measures.

The president encouraged legislators to show "patriotism" by opposing homosexuality and preparing for the potential impact of aid cuts to Uganda, which are reportedly threatened by LGBTQ advocates.

"One of the things they're threatening is to kill our 1.2 million people who have been surviving on PEPFAR [The US President's Emergency Plan for AIDS Relief] funds to buy drugs for HIV/AIDS, so that we don't buy the drugs for our people, and they die," he stated.

In 2014, the US halted aid and military exercises in Uganda in response to a law that criminalized homosexual acts, including sex with a minor or while HIV-positive. This move affected several projects, including a $2.4-million community policing program, which was suspended after a police raid on a US-funded health program at Makerere University.
You can share this story on social media: