African nation poised to adopt death penalty for gay sex
A controversial bill has passed the Ugandan parliament making 'aggravated homosexuality' a capital offense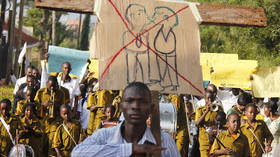 Uganda's parliament has voted overwhelmingly in favor of a bill making certain homosexual acts a capital crime. The measure has now been sent on to President Yoweri Museveni, who is expected to sign it despite vocal foreign opposition.
All but two of the country's 389 MPs lent their support to the measure during a legislative session on Tuesday night. The bill imposes the death penalty for "aggravated homosexuality" as well as life imprisonment for "recruitment, promotion and funding" of homosexual "activities."
Fox Odoi-Oyelowo, one of the two legislators to oppose the measure, described it as "ill-conceived" with "unconstitutional" provisions in comments cited by The Guardian. Not only does it not "introduce any value addition" to existing law, but it "reverses the gains registered in the fight against gender-based violence and criminalizes individuals" where it should focus on "contact that contravenes all known legal norms," the lawmaker said.
Numerous foreign LGBTQ advocacy groups have also condemned the measure, calling it "hate legislation" and "discriminatory" and vowing to fight it.
A previous draft of the bill introduced in 2019 called for the death penalty for all gay sex, and the practice has been illegal since Uganda was a British colony.
Museveni lashed out at western governments last week for threatening sanctions in response to the anti-LGBTQ legislation, calling their efforts to impose foreign cultural norms on African societies "hypocritical."
"Homosexuals are deviations from the normal," he said, explaining there was a need to answer whether "nature or nurture" decided an individual's orientation. "We need a medical opinion on that," he insisted.
The US threatened to withhold aid to Uganda in 2014 when the nation adopted a law punishing "aggravated homosexuality" – an offense that includes gay sex while HIV-positive or with an individual under 18 years old – with life in prison, leading a wave of international opposition that resulted in the legislation being struck down on a technicality
Uganda, a majority-Christian nation, is one of 37 African countries to ban homosexuality. Nigeria, Sudan, and Mauritania also punish the practice with death in some cases.
You can share this story on social media: