Sudanese army clashes with paramilitary units
The military and the Rapid Support Forces (RSF) have accused each other of attacking their respective bases in the capital Khartoum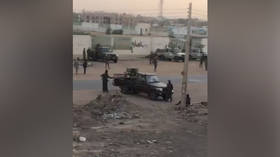 Clashes have erupted between the Sudanese army and the Rapid Support Forces (RSF) paramilitary group in the nation's capital, Khartoum. According to a statement posted by the RSF on Saturday, its fighters have seized the presidential palace and an international airport.
The paramilitary unit also claims that the Merowe military base in the north of the country is under its control, and that it has inflicted heavy casualties on the Sudanese army.
Eyewitnesses are quoted as describing gunfire in several parts of Khartoum and its suburbs, particularly in the vicinity of Sudan's army headquarters and the Defense Ministry. Footage shot by a local journalist and provided to RT depicts numerous pickup trucks with heavy machine guns mounted on them in the streets, surrounded by armed individuals.
A separate clip shows civilians lying on the floor inside Khartoum International Airport.
Media outlet Sputnik has quoted the African nation's Federal Security Service as characterizing the RSF's actions as a mutiny.
Meanwhile, AFP has reported that the Sudanese air force is conducting strikes on RSF bases in Khartoum.
Army spokesman Brigadier General Nabil Abdallah claimed to the media outlet that the paramilitary group had triggered the fighting by attacking "several army camps in Khartoum and elsewhere around Sudan." The official asserted that the "army is carrying out its duty to safeguard the country."
The RSF insists that its forces came under attack first, with a "large force from the army entering camps in Soba in Khartoum and laying siege to paramilitaries there." The unit accused the military of launching a "sweeping attack with all kinds of heavy and light weapons."
The confrontation between the army and the powerful paramilitary group has been simmering for months. On Thursday, the Sudanese army leadership accused the RSF of deploying forces to Khartoum without its consent, denouncing the move as a "violation of the law."
The row over how the RSF should be integrated into the military, as well as which authority should oversee the process, has placed the country's democratic transition in limbo.
The rivalry dates back to the rule of President Omar al-Bashir, who was ousted in April 2019. Sudan has since been in a state of political crisis.

The country is currently led by the Transitional Sovereign Council. Its president – and de facto ruler of the nation – is army Chief General Abdel Fattah Al-Burhan. RSF commander General Mohamed Hamdan Dagalo, also known as Hemedti, is the deputy chairman.
US Ambassador to Sudan John Godfrey wrote on Twitter on Saturday that he and other diplomatic staff are "sheltering in place" amid the "sounds of gunfire and fighting."
Moscow's envoy in Khartoum, Andrey Chernovol, told TASS that Russian citizens currently in the Sudanese capital are advised to stay home and not go near any windows. The diplomat added that Moscow hopes the conflict will "exit the military armed phase and turn into negotiations between the warring sides."
You can share this story on social media: