African country 'clears' concerns over Russian base deal – AP
Sudan has reportedly concluded a review of an agreement on a planned naval station on the Red Sea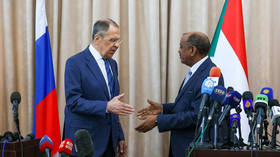 The Sudanese military has resolved its concerns over an agreement with Moscow to set up a Russian naval base on the Red Sea coast, the Associated Press reported on Saturday, citing two Sudanese officials.
"They cleared all our concerns. The deal has become OK from the military side," an official was quoted as saying. According to the sources, Russia has also agreed to demands, including the provision of "more weapons and equipment."
The next step is the ratification of the agreement by Sudan's yet-to-be-formed parliament.
Russian Foreign Minister Sergey Lavrov, who visited several African states in the past week, also told reporters on Thursday that the deal was "in the process of ratification."
According to the agreement signed in 2020, the base would house up to 300 Russian military and civilian personnel, and would simultaneously host up to four warships. In 2021, Khartoum reportedly wanted to amend the deal while seeking economic aid from Moscow.
Sudan has been without a functioning parliament since 2019, when Omar al-Bashir, a leader of 30 years, was overthrown in a coup. Several political parties signed an accord in Cairo, Egypt on Tuesday aimed at dialogue as part of the transition to civilian rule.
A group of US and European envoys traveled to Sudan on the same day Lavrov met with Sudanese officials. Bloomberg cited three people familiar with the matter as saying that Lavrov's trip "came as a surprise in Western capitals."
Last year, the US also stepped up diplomatic engagement with Sudan, dispatching John Godfrey to serve as Washington's first ambassador to Khartoum since the 1990s. Godfrey told local media in September that a Russian base would "lead to further isolation of Sudan at a time when most Sudanese want to become closer to the international community."
Oleg Ozerov, a senior Russian diplomat, has accused the West of using "blatant pressure" when dealing with Africa. "I can't say that African countries are very happy about that," Ozerov said on Thursday.
You can share this story on social media: