France wants Africa to copy West on gay rights
The call comes in response to a proposed Ghanian law which could see jail terms for homosexual acts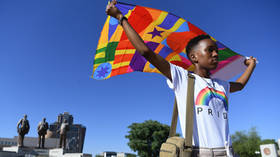 African nations should follow the lead of the West when it comes to gay rights, French Minister for International Partnerships Chrysoula Zacharopoulou has said, affirming her commitment to promoting LGBTQ rights on the continent.
At a press conference in Ghana's capital, Accra on Monday, Zacharopoulou insisted that gay rights are "a question of human rights" which must be protected by law.
"In my country and in the European Union, we promote human rights and of course in my ministry, we have an ambassador to promote LGBT rights; so what I can say is that this is our values and wherever I go in Africa, I will continue to say that we have to respect all of us, the LGBTQ community," she said, according to local media.
The minister, who is on a three-day visit to Ghana, is the latest foreign leader to advocate for gay rights in Ghana, just days after US Vice President Kamala Harris made headlines with her LGBTQ advocacy.
In a joint press conference with Ghana's president on Monday, as part of her three-nation African tour, Harris reaffirmed the US position on LGBTQ rights, calling it a "human rights issue" that "will not change."
Her remarks follow the introduction of the Proper Human Sexual Rights and Ghanaian Family Values Bill, also known as the Anti-Gay Bill, which is currently being debated in parliament. If passed, the bill would outlaw support for the gay community and impose jail terms on people who engage in same-sex relationships.
Ghana's Speaker of the Parliament, Alban Bagbin, has signaled that the West African country intends to pass the bill regardless of interference from the US.
More than 30 African countries have already prohibited same-sex relationships. Uganda recently passed a law that makes it illegal to even identify as lesbian, gay, bisexual, transgender, or queer.
You can share this story on social media: